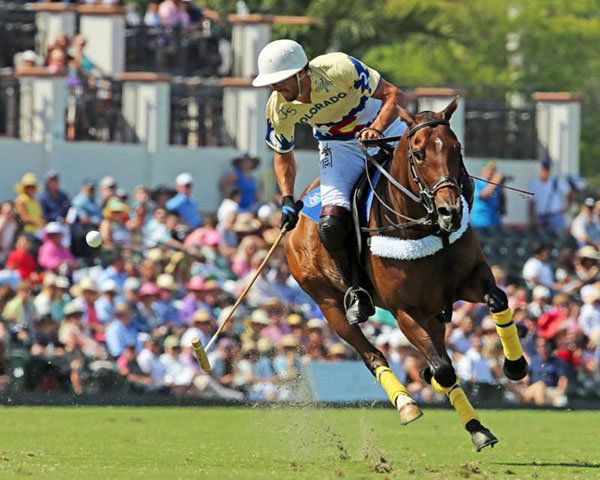 High-goal action at the International Polo Club continued Sunday, March 25 with two matches in the 26-goal USPA Gold Cup Tournament.
In the morning, Flexjet beat Daily Racing Form 10- 9. Next, in the 3 p.m. featured match, Colorado faced Audi, with both teams looking for their first tournament victory.
Colorado started the game with a goal on handicap and made the most of the first chukker to get ahead, thanks to two goals from Magoo Laprida. Nic Roldan also scored to keep Audi in the game.
The third chukker saw Marc Ganzi's team kick into gear. Audi was down by 3 goals when Roldan scored twice and Polito Pieres scored once to tie the game at 5-5. But Colorado came back to finish the first half with a 7-6 advantage.
The fourth chukker was well fought, and both teams scored one goal each. Colorado stepped it up in the fifth chukker, after Audi had tied the game once again. Laprida scored two more goals to make it 10-8 in favor of Colorado at the start of the sixth chukker.
Just as it seemed that Rob Jornayvaz's team would claim the win, Pieres and Roldan scored again to tie the match 10-10. But Tomás García del Río, who played in place of the injured Juan Britos, came through to give Colorado the victory with just 30 seconds left in the final chukker.
Colorado's victory led to a penalty shootout Monday morning between Colorado and Tonkawa. Tonkawa won the shootout and advanced to the semifinals.
García del Río was named Sunday's MVP.
"I was asked to play after Juan Britos suffered a fall the other day, but luckily he is OK," he said. "It's always fun playing on this team, with these players and on these horses. It was easy to fit into the team, since I have played with Magoo and Diego Cavanagh many times before. I always have fun when I play with them."
This Sunday's featured match will be the USPA Gold Cup Final. For more information, visit www.internationalpoloclub.com.