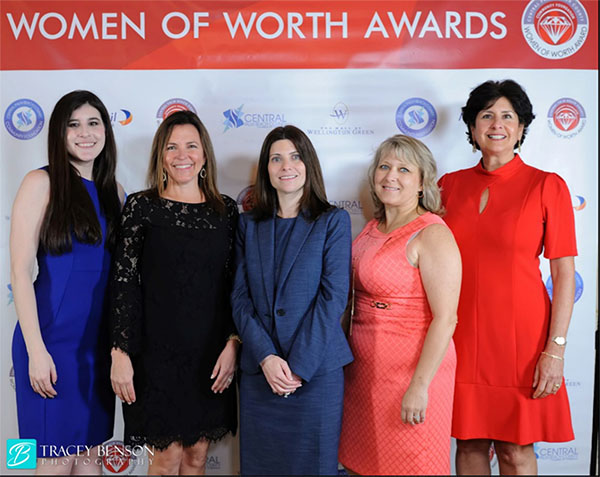 Five outstanding women were recognized and celebrated for making valuable contributions to their businesses and their community at the seventh annual Women of Worth (WOW) Awards Luncheon, presented by Mercantil Bank, on Friday March 2 at the Eau Palm Beach Resort & Spa.
The Central Palm Beach County Chamber of Commerce and the Central Palm Beach County Community Foundation announced the five WOW Awards winners from among 22 nominees in five categories: Corporate, Education, Entrepreneur, Nonprofit/Volunteer and Young Professional.
The Corporate winner was Pam Tahan, chief operating officer of Wellington Regional Medical Center. Tahan has more than 15 years of experience as a seasoned senior healthcare executive. She also served as the president of the Young Professionals of Wellington, where she helped to start a community garden at the Neil S. Hirsch Family Boys & Girls Club.
The Education winner was Donna Baxter, student activities director and social studies department chair for Palm Beach Central High School. Baxter has enjoyed teaching for more than 27 years.
The Entrepreneur winner was Kelley Light, owner of Renew: The Breast Care Boutique. Light was diagnosed with breast cancer in 2011. After overcoming her battle, it inspired her to take on her newfound profession as a certified mastectomy fitter and opened Renew.
The Nonprofit/Volunteer winner was Christine Radentz, owner of Christine Radentz Consulting. Radentz delivers strategic administrative support to her clients. She has served the communities of Palm Beach County as a dedicated volunteer for more than 20 years.
The Young Professional winner was Alicia Zweig, attorney at Lesser, Lesser, Landy & Smith. Zweig is the co-founder and vice president of the Jacob S. Zweig Foundation (In Jacob's Shoes). This charity provides new and gently used shoes, athletic equipment and backpacks filled with school supplies to children in need throughout South Florida.
This year's guest speaker was Ellen Latham, partner and founder of Orangetheory Fitness. Forbes named Orangetheory one of the "Fastest Growing Woman-Owned Businesses" in 2017, and it has been recognized by Entrepreneur Magazine, Inc., Bloomberg, and The New York Times for its disruptive science-backed exercise concept.
Latham gifted her book, Push, to the audience and conducted a book signing at the end of the event.