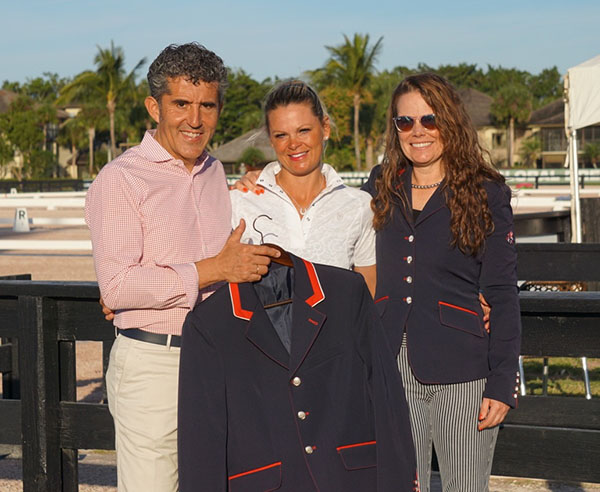 Flying Changes Equestrian Clothing, official supplier to Team Great Britain at the 2016 Olympic Games, is excited to announce a new sponsorship on this "side of the pond" with U.S. Grand Prix dressage riders Dr. Cesar Parra and Katie Riley of GK Horses, who will be riding down their center lines this season in Flying Changes Bespoke Dressage coats and shadbellys.
"We're very excited. We love the jackets and their amazing fit," Parra and Riley told Flying Changes International Sales Director Louisa-Marcelle Eadie.
"I've owned many 'fancy brand' jackets," Parra said, "and these just feel better than any of them."
That "feel" is the brainchild of professional international dressage rider and British dressage judge Sarah Cheetham, who in 2012 responded to a revision in the dress code by tailoring her own tailcoat, using her own choice of fabrics. While representing Great Britain at the Hartbury CDI that same year, Cheetham's tailcoat ignited a flurry of interest. By 2016, Flying Changes was clothing every top British rider across every discipline, from para-equestrian to eventing.
"What sets Flying Changes Bespoke apparel apart is technical fabric that has stretch, breathability and is still machine washable," Eadie said. "You can't tailor on a 'soft shell' fabric, which is where our jackets come in. The difference with the Flying Changes brand is that it allows the kind of tailored fit to a jacket that can take its wearer from the show ring and into an office boardroom. At the same time, these designs allow you to move with your horse, while holding you in, and encouraging you to keep your posture correct, your shoulders back, and your tummy in."
For Flying Changes, it's the perfect fit with both top-scoring riders.
Parra was among Colombia's leading international riders before going on to represent the Unites States on its team gold medal-winning 2011 Pan American Games dressage squad and was the highest-placed (individual silver) American at the 2013 Nations Cup. In 2017, he qualified and competed Don Cesar in the 2017 Longines FEI World Breeding Championships Seven-Year-Old division, and rode Fashion Designer OLD to the Markel/USEF Developing Grand Prix Dressage national title and Oldenburg Breeders Horse Society Award.
Riley has been riding with Parra since 2000 and is both an accomplished coach and Grand Prix rider in her own right, having earned USDF bronze, silver and gold medals. She has qualified and competed in multiple U.S. national championships, including placing third in the Markel/USEF Developing Grand Prix Dressage Championships two years in a row and finishing third in the five-year-old division in 2015.
"Flying Changes has been very, very generous in its support," Parra said, thanking the British-based company for its sponsorship. "Although I'm still working on how I can slip into that wonderful British accent when I put on my jacket."
Design your own color-coordinated garment, customize a standard design, and browse the new Flying Changes casual collection of jackets, coats and shirts at www.flying-changes.co.uk. For more info., e-mail sales@flying-changes.com.