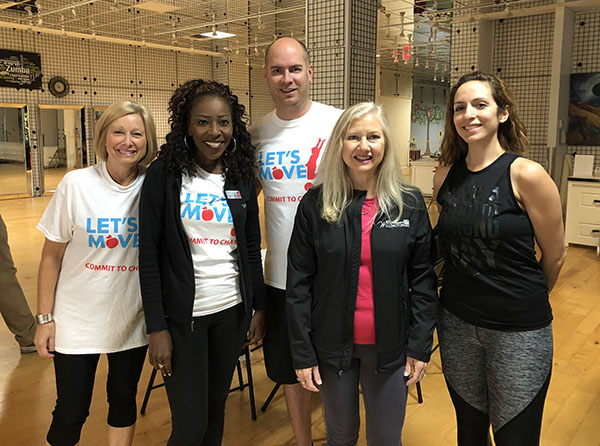 By Erin Davisson
The Village of Wellington kicked off its month-long Let's Move Campaign on Saturday, March 3 at the Mall at Wellington Green. The event was organized by Wellington's Community Services Department with support from community partners, such as Ultima Fitness and the Palm Healthcare Foundation.
The Let's Move Campaign is a countywide initiative that involves exercising and eating healthy. The Palm Healthcare Foundation, sponsor of the event, is collaborating with CBS 12 and PNC Bank to bring more awareness to healthy living and encourage people to be proactive and engage in physical activities, as well as to eat better foods, such as fruits and vegetables.
Marjorie Sullivan, vice president of the Palm Healthcare Foundation, encourages everyone in the community to get involved.
"Physical activity is the best medicine," she said. "It can help prevent illnesses, help reduce stress, improve moods and increase bone health."
This is the sixth year that the foundation has been collaborating with a wide array of community partners to make the Let's Move Campaign happen.
The heart of the event began at the mall's Live 360 Studio. Starting at 8 a.m., Ultima Fitness had three trainers — Javonti Greene, Maria Conde and Jennifer Singer — come out to lead a warm-up before a walk around the mall. The warm-up lasted for about 15 minutes before the mall walk began.
"We have our own team within the campaign," Greene said. "We're hoping to encourage our fitness members to be more proactive with their exercises."
Shortly after the warm-up, the mall walk began. Among the people walking were not only the fitness trainers, but a number of residents and Wellington staff members, such as Scott Campbell and Paulette Edwards.
Local resident Lynda Gusaeff was very excited to participate. "I enjoy walking and exercising, and I believe this event is a great way to show residents how important it is to exercise and eat healthy," she said.
VIPs attending the event included Councilman Michael Drahos and Mayor Anne Gerwig.
"I'm excited because the entire council is involved," Gerwig said. "We are coming together to encourage people to be more physically active."
Wellington is one of many groups in the county taking part in the Let's Move Campaign. Events are also ongoing in communities such as Boynton Beach, Delray Beach, Jupiter, Boca Raton and elsewhere. In fact, the campaign is also a competition to challenge others in Palm Beach County to see if they have what it takes. As of Wednesday, the Wellington team is in the lead countywide, followed by teams from Jupiter and the Palm Beach County School District.
The great thing about it is that anyone can sign up. The challenge is to spend 30 minutes a day doing any sort of physical activity that will get your legs moving and your body grooving. Each day, participants log their minutes online, and it will be counted toward their group. The challenge lasts the entire month of March.
It's always important to be healthy, and one doesn't need a competition to see that, but sometimes it's needed to bring awareness to the many benefits of physical activity.
Want to be a part of the fun? Want to test yourself? There's still time left to get involved. To take part, visit www.letsmovepbc.org and sign up with a community partner, such as the Village of Wellington, to qualify. Then return daily to log your minutes of physical activity.
The Village of Wellington also has a number of sub-teams, such as local schools and Ultima Fitness, which is making things easy for its members using the Ultima app.