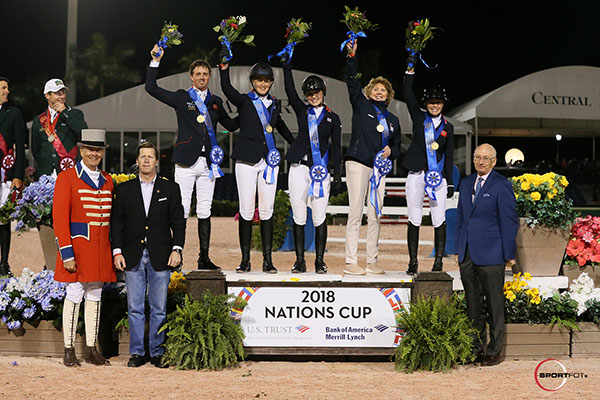 The team from Great Britain — Amanda Derbyshire, Ben Maher, Emily Mason, Emily Moffitt and Chef d'Equipe Di Lampard — won the $150,000 Nations Cup CSIO4*, presented by U.S. Trust & Bank of America Merrill Lynch, on Saturday, March 3 during week eight of the 2018 Winter Equestrian Festival.
The Nations Cup consisted of two rounds shown over a course set by Ken Krome. Teams of four represented the nations of Argentina, Brazil, Canada, Chile, Great Britain, Ireland, Mexico, the United States and Venezuela. After the first round, each team dropped their highest score. In the second round, the top six teams returned in order of highest to lowest total faults. The winner was determined by the lowest total of each team's top three riders.
The six teams that returned for the second round, in order from most faults to least, were Chile, Venezuela, Ireland, Brazil, Mexico and Great Britain.
The winning nation was represented by Derbyshire on Luibanta BH, owned by Gochman Sport Horses, Maher on Jane Forbes Clark's Tic Tac, Mason riding Explosion W for Poden Farms, and Moffitt on another Poden Farms-owned mount, Hilfiger van de Olmenhoeve. Great Britain led in the first round with a zero fault total after Derbyshire, Mason and Maher went clear. Moffitt was the drop score with 13 faults. In round two, Moffitt came back strong with a clear round, and Mason and Maher also contributed clears. Derbyshire was the drop score with eight faults.
It all came down to anchor rider Maher, the 2012 London Olympic Games team gold medalist, to produce the win for Great Britain, as Ireland was waiting with five total faults after three clear trips in the second round. Maher delivered on Tic Tac, a 15-year-old Belgian Sport Horse, showing for the first time with Maher at the Winter Equestrian Festival.
"We had a long talk before the weekend that we needed Great Britain to get off to a good start," he said. "We've been losing for too long, and I think that for any rider or any team, you can't just go on a run of bad luck or bad results and all of a sudden come out and win a championship, so I think this year we have to start strong as a country, as a team, within the riders that we have, and get off to a positive start."
Maher, 35, is one of the more senior riders on the young team.
"We have a younger generation now," he said. "Everyone's ridden one or two Nations' Cups, and last week I was told this is my 50th, so I feel really old now."
Mason, 26, who was riding for the first time ever in a Senior Nations Cup for Great Britain, was thrilled with her horse's performance.
"Personally, for me it was an honor even to be picked for the team to start with and the fact that we managed to get a double clear out today is mind blowing, but I'm so happy with the horse," she said of the nine-year-old KWPN gelding. "He's inexperienced with this level, and he jumped absolutely phenomenal tonight."
Derbyshire, 29, who was riding in her second Nations Cup ever, has had a spectacular week with two individual CSIO victories with Lady Maria BH and the Nations Cup win on Luibanta BH, a 10-year-old Irish Sport Horse mare.
"Last year was the first time I did a Nations Cup, and it went well, but I was a little nervous," she said. "This year I think we had a great, strong team, and I think we were all pretty confident we could do a good job. I was delighted with the horse. She always tries her best. I made a little mistake in round two, but thankfully I had some other teammates who made up for it. I am delighted for everyone and for Great Britain."
Nineteen-year-old Moffitt, riding in her third Nations Cup, was pleased with her horse's ability to rise to the occasion in the second round and help her team. "The first round was not great; it did not go to plan, and the second round I definitely had to take a deep breath and focus on what I needed to do. I rode as well as I could, and Tommy was definitely more with me the second round and he flew over the course. He really knows when he has to do his job," she said of the 11-year-old Belgian Warmblood gelding.
The Saturday Night Lights series continues throughout the 12-week WEF circuit, held at the Palm Beach International Equestrian Center in Wellington. Hunter, jumper and equitation competition at WEF continues through April 1, offering more than $9 million in prize money. For more info., visit www.pbiec.com.