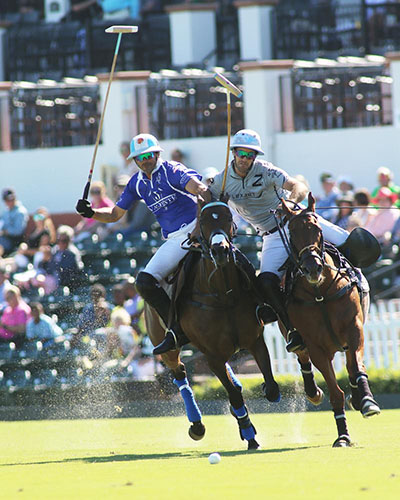 The high goal season at the International Polo Club Palm Beach resumed on Sunday, March 18 with matches for the USPA Gold Cup and the Carlos Gracida Cup.
It was a wonderful, sunny day, and many polo fans came out to watch superstars Facundo Pieres and Adolfo Cambiaso play together once again. Sunday also marked the debut of Flexjet in the 26-goal tournament.
In their battle with Valiente, Flexjet managed to take control of the game in the opening chukker, clearly showing their intentions of putting up a fight. A goal from Gonzalito Pieres and another from Rodrigo Andrade gave Flexjet an early 2-1 advantage.
But Valiente gained strength and quickly tied the game thanks to a conversion from Gillian Johnston, who played as a substitute for Bob Jornayvaz. Flexjet battled back and made it to halftime with a 6-4 advantage, to the surprise of many in the stands. Facundo Pieres and Cambiaso took control in the fourth chukker, and quickly tied the match at 6-6. The fifth chukker was the best in the game, with good runs and goals from both teams.
Valiente went into the final chukker ahead by one, and the team made the most of it, as Johnston and Facundo Pieres each scored a goal to seal the deal. The game ended with a final score of 11-8 in favor of Valiente.
"I started off a bit slow, but a couple of words from Adolfo helped me get into the groove of the game," said Tommy Beresford, the youngest player on the Valiente team. "Luckily, I was able to perform better as the game went on, and help my teammates win the game."
Flexjet's Nico Pieres was named MVP during the awards ceremony.
"It was a tough match against a team which should be considered as one of the best of all time," he said. "We were lucky to have the advantage for a few chukkers, but in part of the fifth and then the sixth, they managed to control the ball and started playing well. That's why they won. We need to focus on being in good form for the next few games, shortening our lists and concentrating on playing well each chukker."
Pieres also noted that this was Flexjet's first match of the season and they had just practiced for the first time together two days before.
Best Playing Pony honors went to Dalma, played by Facundo Pieres.
Earlier in the day, the next Carlos Gracida Cup match was played with La Indiana defeating Prestige Worldwide by a final of 11-8.
To learn more about the International Polo Club Palm Beach, visit www.internationalpoloclub.com.