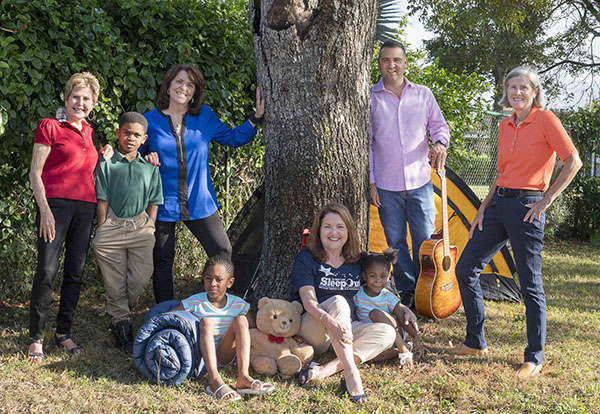 Hundreds of local residents will come together on Friday, April 6 to participate in the Lord's Place 11th Annual SleepOut. The family-friendly event will begin at 6 p.m. at the United Methodist Church of the Palm Beaches at 900 Brandywine Drive in West Palm Beach.
Participants are encouraged to register beforehand to start or join a team at www.SleepOutTLP.org and request financial contributions for their participation from family, friends, neighbors and co-workers. All proceeds go toward meeting the event's fundraising goal of $300,000. SleepOut is a signature annual event designed to bring attention to the issue of homelessness and help the Lord's Place raise funds for its life-changing programs.
SleepOut begins with participants staking out their sleeping area and then joining in the fun with food, provided for sale by Joshua Catering, a social enterprise of the Lord's Place, children's activities and a silent auction. Everyone comes together for an inspiring program of song and word, celebrating the success of those helped by the Lord's Place to overcome their homeless status.
This year, X102-FM radio personality Reggie Dee will share his personal story of experiencing homelessness and receiving second chances, which helped lead him to the successful life he enjoys today. Many will stay for the movie from 9 to 11 p.m. and spend the night, sleeping outside, with a closing reflection at 7 a.m. Others who can't join SleepOut onsite can opt to SleepIn at their home or in their neighborhood. Register to SleepIn at www.SleepOutTLP.org.
There is plenty of free parking at the church, located just west of I-95 off of Palm Beach Lakes Blvd. Volunteers will be on hand to help participants pitch their tent or find their "sleeping under the stars" spot.
Registration for SleepOut is $25; kids under 16 are free. For more information, visit www.thelordsplace.org.