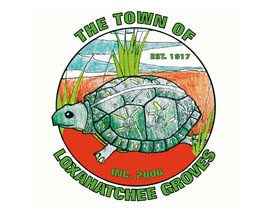 The Loxahatchee Groves Town Council agreed last week to hire a road consultant to help coordinate road improvements in the town.
The company, Foresight Communications & Consulting, would charge an $1,800 initial fee and $150 an hour thereafter for its services, which will include talking with residents whose roads might be part of improvement projects.
"This is a third party," Town Manager Bill Underwood said at the March 20 meeting. "I did look at their references. They've worked with a number of construction and engineering firms. They have worked with our engineering firm… This is what we need when it comes time to get easements and catch basins in place."
Underwood asked the council to consider having staff draft an agreement with Foresight to help coordinate road improvement projects.
"If that's what the council wants, we would have the attorney draft an agreement that we can live with, and then they would be engaged," Underwood said. "Once we determine what we're going to do with the bond issue, it would come out of that bond issue as well. They have an initial cost of $1,800 to get the facts, how they're going to explain to the public what is happening, what the costs are, what the easements are, and then as an hourly rate after that."
Councilman Todd McLendon made a motion to draft the contract.
Councilman Dave DeMarois asked if the consultant would start with roads approved earlier in the meeting — San Diego Drive, Los Angeles Drive, Paradise Trail, Flamingo Road, Raymond Drive and 22nd Road North — and Underwood said it would.
Councilwoman Phillis Maniglia asked if the consultant would speak to the residents individually or as a group, and Underwood said they would start by inviting groups of residents to participate at meetings.
"We tried that with B Road, and we had some show up," he said. "Not everybody showed up, and then we would try to work through individual properties. Some gave us lots of room, some gave us less room, and I would say we were successful."
Maniglia said she would like to get as many residents together as possible at meetings to help save costs.
"If you get them in a group, you may get the majority that wants the road, and they will encourage their neighbors to come forward as well," she said.
McLendon's motion carried 5-0.
In other business, the council agreed to draft a letter to the state objecting to approval of the City of Westlake's comprehensive plan, which is under review by the Florida Department of Economic Opportunity (FDEO).
Mayor Dave Browning explained that developer Minto bought the almost 1,500-acre Callery-Judge Grove after Callery-Judge had got approval from the state for just under 4,000 homes on the property.
"When it was Minto, they went for 7,000 and were approved for 5,000 homes," Browning said. "Then they became Westlake."
An analysis by the Treasure Coast Regional Planning Council found that Westlake's comp plan could allow for as many as 45,000 homes and 11 million square feet of non-residential space. "So, I think it's a good time to object," Browning said.
Town Planning Consultant Jim Fleischmann said the official plan is 6,500 units and 2 million square feet of non-residential.
"With all of the density bonuses that could accrue, it could get up to 30,000 or 40,000 dwellings, but that's unknown for the future," Fleischmann said.
The Westlake City Council adopted the plan and transmitted it on March 12. Fleischmann explained that the town has 30 days to file an objection if it wants to.
"There's two ways to go," he said. "We can send a letter to the FDEO, or we can file a challenge with the Division of Administrative Hearings. That's an expensive way to go."
Fleischmann recommended that the council start by sending a short letter to the FDEO based on two items.
"The first one is that there's a requirement in the Florida Statutes that the [applicant for the] comprehensive plan needs to communicate with its neighboring jurisdictions to try to coordinate plans, and there's nothing in the comp plan that does that, so I think we need to send a letter to the state saying that that's a shortcoming that needs to be addressed, and that we request that the FDEO take that into consideration in their finding of compliance," he said. "The second thing is when Westlake was originally approved by Palm Beach County, there was a condition that a traffic control device be built by Westlake at D Road and Okeechobee Blvd., and I think that we should request that their capital improvements element include that prior to their gaining compliance by the state."
McLendon made a motion to send a letter to Tallahassee specifying those two objections to Westlake's comp plan, and it carried 5-0.
Fleischmann noted that the Palm Beach County Commission met recently at its zoning meeting, where county staff had recommended that the commissioners not object to the comp plan because staff lacked sufficient data to show that Westlake could build more than 6,500 homes.
"When Westlake adopted the transmittal version of it, the county's only real comment was that there wasn't enough data and analysis in there for them to make any kind of interpretation of the impact on traffic in the area, so they requested that Westlake provide additional information so that the county had an opportunity to make an assessment," he said.
Underwood noted that he had received a call from Westlake's city manager asking if the town was going to have objections, and he told Underwood that 14,000 residences was the number they had in mind.
Browning said the letter should object to any number of residences over the 6,500 approved by the county.
McLendon said the issue he cared about was the impact on town roads.
"We're addressing that by saying they haven't worked with us," he said.