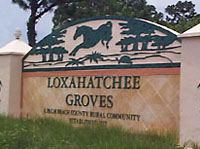 With the help of two new members on the council, Loxahatchee Groves Councilman Todd McLendon last week recommended several changes to the way the town works, including how voters are registered, reverting duties of the Local Planning Agency from the Planning & Zoning Committee to the Loxahatchee Groves Town Council, and cutting meetings of the Finance Advisory & Audit Committee to every four months.
New councilwomen Joyce Batcheler and Phillis Maniglia were seated at the March 20 meeting, replacing former councilmen Ryan Liang and Ron Jarriel.
McLendon said he would like to clean up the voter registration to see which voters still live in the town.
"In the statute for voter registration, there's a process where the town can find out who's not living in Loxahatchee Groves anymore," he said. "We have 2,300 registered voters here. There are probably 500 who haven't voted in 20 years. I can look at this list, and I know there are a bunch of people who have moved away or have died."
He made a motion for the council to direct staff to go through the voter list and send letters asking if they still live in the town, and if there is no response, to notify the Supervisor of Elections. The motion carried 5-0.
McLendon also asked that the council serve as the town's Local Planning Agency.
"That way, the P&Z is not the LPA anymore, because trying to get things done through the Uniform Land Development Code is red tape after red tape, and it's taking forever to get it done," he said. "It puts more duties on us. It might end up being an extra meeting sometimes… but it will move things along faster with cleaning up our ULDC."
He made a motion for the council to become the LPA and that the ULDC be reinitiated, which carried 5-0.
Town Attorney Michael Cirullo pointed out that the change would have to be made by ordinance.
"You have your Planning & Zoning Committee established by ordinance designated the LPA," Cirullo said. "The change in duties would come to you in the form of an ordinance."
McLendon also asked approval for staff to look at how many hours it has spent fulfilling public records requests from the Office of the Inspector General in response to complaints filed by residents. "[We spent] tons of man hours and found no money missing, no money misspent anywhere and that sort of thing," he said. "I will try a vote on this at the next meeting."
McLendon added that he felt the OIG should have been paying for the records they requested.
Councilman Dave DeMarois said he felt, in fairness, the OIG should be called as well to ask their opinion on what they are trying to do and what they are searching for.
During public comment, former Loxahatchee Water Control District Supervisor John Ryan, a member of the town's Finance Advisory & Audit Committee, said he would like to remind people that the OIG was approved in a referendum by more than 70 percent of county voters.
"They were set up as kind of an advisory to all of the municipalities in Palm Beach County, and they perform various functions, review of contract issuance, audits," Ryan said. "In the process of a two-year audit of Loxahatchee Groves, they did review most of the operating aspects of the town, and they came up with serious concerns. They said, number one, no other community uses an all-in-one management company. There is an inherent lack of checks and balances, and there's a situation where they said this is a weakness in the way the town is structured. Towns typically have a town manager, a separate town clerk, separate functions of finance and others that are carried out in the town. Putting them all in one company is asking for a lack of checks and balances."
McLendon pointed out that the town's form of government was scrutinized because it is the only one in the county that has a contractual form of government, as the charter calls for, and the town has complied with all the OIG requests, including detailed inventory of supplies and equipment. "How that saved money for us, I have no idea," he said.
Mayor Dave Browning said the OIG's biggest problem is that Loxahatchee Groves is not like any other town.
"We don't have employees that we pay retirement into the future," Browning said. "They pulled me in and the issue was, 'Your contract says he's supposed to take verbal proposals over the phone, and you're taking written proposals over the phone.' I said I would rather take a written proposal, 'Well, yeah, but he's supposed to take them verbal.' We spent a lot of money answering their stuff, and all this stuff is cleared up."
Browning added that he and Underwood made a special trip to Tallahassee to clear up any issues on the Loxahatchee Groves Water Control District bill and found that all OIG questions had been answered to the state's satisfaction.
"Why does this keep coming up that there [are] all of these issues?" Browning asked. "When we became a town, we chose a different method… All of these charges ate up a lot of our time. It was a purposeful movement to derail the town."
A motion to look into the costs of responding to OIG questions carried 5-0.
McLendon also asked that FAAC meetings revert to the previous schedule.
"These finance committee meetings, they go on for hours. Some of the members are completely disrespectful to town staff," he said. "I'd like to limit them to every four months, and I'd also like the resolution that set up the FAAC to come back to our next meeting and limit its scope back to what it was before. We need to add in there that you need three affirmative votes for something to pass, because the way it's set up right now, two affirmative votes can pass something. It shouldn't be that way."
DeMarois felt the council should hold off changing the scope of the committee until they've had a chance to operate with new members.
"Why don't we give them a chance to operate for another couple of months and see what they think of the new group?" he asked.
"Because I've had enough of what I've seen already," McLendon said. "With the way they've treated our town staff, the way the town staff has sat here till seven o'clock only to find out that there's not a quorum… that's got to stop."
McLendon made a motion for staff to bring back a resolution that limits the scope of the committee, which carried 4-1 with DeMarois opposed.