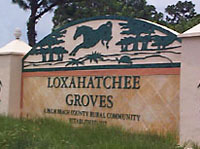 Palm Beach County's milling and resurfacing of Okeechobee Blvd. from Seminole Pratt Whitney Road to Royal Palm Beach Blvd. through the Town of Loxahatchee Groves began this week with nighttime operations and temporary lane closures.
The operation will take about 20 days, Town Manager Bill Underwood said.
The project will resurface the existing two-lane road only, with no additional turn lanes or roundabouts, pedestrian or equestrian crossings, or traffic lights, as has been advocated by several town officials.
"It is basic resurfacing," Underwood said.
The considerable amount of millings desired by some town council members — and much needed for town road improvements — is being taken by Ranger Construction, the company contracted by the county to do the work.
"Before [Ranger] even started to do the Okeechobee Blvd. work, they wanted $10 per ton, and not a free donation," Underwood said, explaining that the county awarded Ranger the $922,000 contract on Jan. 23, which is funded through the county's infrastructure sales surtax.
The budget for the improvements includes striping and marking costs of $100,000, bringing the total fiscal impact to $1,022,000.
"It's what I would call a diamond cut, that's when they chew it up when they go down the road, so there's no addition to it," Underwood said. "It looks like they're doing the same striping as they did before."
Although the county owns the road, town does have authority to regulate traffic through it, as the council did recently when it lowered the speed limit from 45 to 30 mph on both Okeechobee and Folsom Road. The town has no plans to add other traffic controls, such as speed tables, rumble strips or special crossings during the county project.
"Not for that project," Underwood said, adding that the Palm Beach County Sheriff's Office is conducting active enforcement on the lower speed limit.
He said that traffic flow has decreased about 2,000 or 3,000 daily trips since the enactment of the reduced speed limit.
Underwood added that the resurfacing is needed.
"It was time," he said. "The road was getting bad. I'm not an engineer, but there were cracks and fissures occurring in the road, and at some point it would deteriorate down to the base. If they didn't do it, it would be a significant repair."
The paving will include road surface intersections to the edge of the county right of way, including dirt roads.