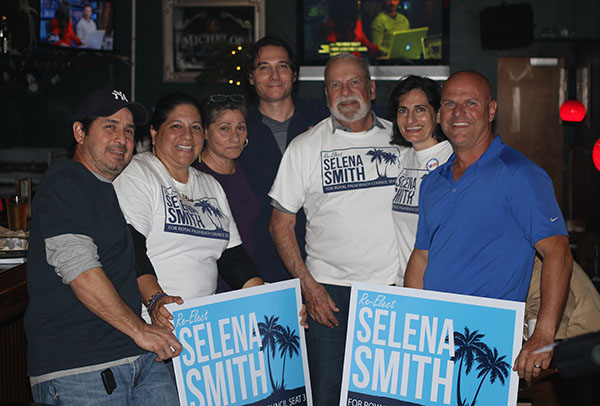 Voters chose to keep the Royal Palm Beach Village Council as is, re-electing Fred Pinto as mayor and Selena Smith to the council on Tuesday, March 13.
In the mayor's race, incumbent Pinto received 1,338 votes (57.20 percent) over Martha Webster with 1,001 votes (42.80 percent), and for the Group 3 council seat, incumbent Smith won with 1,407 votes (61.74 percent) over Sam Roman with 872 votes (38.26 percent), according to unofficial results from the Palm Beach County Supervisor of Elections Office.
"We've got a lot on the agenda that we need to get done over the next two years," Pinto said Tuesday night as he gathered with supporters at Asador Patagonia restaurant at the Royal Inn. "I would like to complete some of the projects we have initiated."
Pinto noted his goal to support senior citizens in the community, particularly with the establishment of a new senior care facility, a combination of memory care and a high-level assisted-living facility.
"That is in progress," he said. "I am hoping they will be getting their doors open in a year to 18 months from now. That is something we have been working on for several years for our seniors within the village."
Pinto also described the Uber-like ride-share program for senior citizens that is in the planning phases. "I am looking forward to getting that going, and I would like to get that started before the end of the year. We are working on that initiative now."
Along with his election supporters, Pinto also thanked village staff for all their help in his role as mayor.
"I am grateful to all our staff. They really have passion about their job," he said. "They really have a great skill-set to find the right thing for the village. They make sure we all adhere to ordinances and laws and regulations. They have the technical understanding of how to make it apply to all applicants. They really work with each person to get their project to be where it needs to be so that it can be a successful project within the village. It's a great place to live within the Village of Royal Palm Beach. I am honored to serve its citizens."
Smith said she looks forward to getting back to working with residents on her three key issues.
"In the next two years, I look forward to expanding on the platform we've worked [for] together on the council: our seniors, our local businesses and transparency," she said, celebrating her victory at Tree's Wings in the Royal Plaza. "I look forward to working with the council and staff to expand on those. The staff has done an amazing job."
Like Pinto, Smith noted the new senior living facility and the new senior ride program.
"We have our senior-needs assessment that we have been developing. We recently put $45,000 in the budget for transportation for our seniors," she said. "I look forward to getting that activated."
Smith also noted improvements in village permitting.
"For our local businesses, we've done a great job permitting online, as well as creating a new business booklet, kind of like a new resident packet," she said. "We would like to make that process easier with a step-by-step way to open up or expand in our area."
On the topic of transparency, she said, "I just want to make sure we put out there everything we do, to be publicly known. I will continue to post on social media and just letting residents know what we have going on."
Smith thanked the voters for their support.
"I am grateful to be able to serve the residents of the village again," she said. "It is a tremendous honor. The staff is incredible. They are really who make the village run. It really takes the effort to make us all look good and the council as well. We work very well together, and it is really neat to see how we can continue on that. I am grateful for all the help and support, the guidance and advice. It's amazing."
Unlike other area municipalities, Royal Palm Beach elects council members to two-year terms, which means there is an election held every year. Pinto believes that the village should consider switching over to staggered four-year terms.
He is concerned that the cycle of annual elections puts an undue burden on the village budget, on the staff, on council members within an election cycle and on the citizens of Royal Palm Beach.
"There are a lot expenses associated with these elections every year, and it creates a climate where elected officials behave differently when they are going through their election cycle as opposed to a non-election cycle," Pinto said. "We are going to put the question on the ballot, and the voters can determine if they want that."
Pinto, however, is not a supporter of term limits, which has also been discussed in the past.
"It takes a perfectly good, capable person who is very good at their job in representing the citizens and arbitrarily firing them so that somebody who doesn't have any knowledge can have a chance to run," he said. "We already have term limits through the regular voting process."
He separated the issue of term limits from the issue of longer terms. "This [initiative] will take this annual madness away from the village and allow our elected officials to serve in a climate where we are not making decisions for political reasons, but making decisions over what is good governance and good for the citizens," Pinto said.