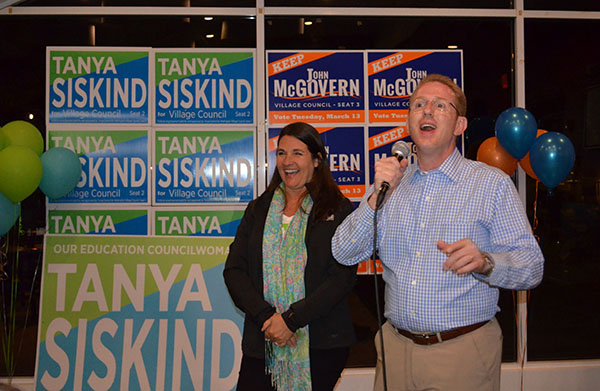 Wellington Village Council incumbents garnered landslide victories Tuesday, March 13, with Vice Mayor John McGovern and Councilwoman Tanya Siskind securing four-year terms in office.
The unofficial results of the municipal election provided by the Palm Beach County Supervisor of Elections Office detailed the election results.
In the race for Seat 2, Siskind earned 2,471 votes (74.52 percent), while challenger Frank Ferrano took 845 votes (25.48 percent). In the Seat 3 race, McGovern received 2,804 votes (83.70 percent) while challenger Bart Novak got 546 votes (16.30 percent).
"It's very important to say, in regard to our opponents, that it is not easy to put your name on a ballot," McGovern said. "It is not easy to ask people to judge you, which is essentially what we do on Election Day. So, I just want to give them credit for it."
McGovern and Siskind held their election watch party at the Wellington National Golf Club, where they were welcomed with applause from their families, friends, supporters and their fellow council members.
"It is such a humbling and exciting experience," Siskind said.
The candidates ran each of their campaigns with the goal to keep Wellington on the same positive path they felt has been maintained by the current council — a path ensuring Wellington is kept family-oriented.
McGovern, who grew up in Wellington and is now raising his own children in the village, has been on the council since his appointment to fill a vacancy in 2015.
He told supporters that he looks forward to keeping Wellington on the right path, expressing his aspiration to continue working with the council to maintain Wellington's status as one of the best places to raise a family.
McGovern expressed his excitement to be given the opportunity to continue working with the current council. He embraced the council's ability to listen to village residents in order to tackle diverse issues while always keeping Wellington's best interest as their main priority.
"This whole campaign was a great experience. It was a chance to engage directly with voters. What I learned is that everyone loves this village. Some people want small change here and there, but what they mostly want is for Wellington to stay Wellington," McGovern said.
Siskind, who has lived in Wellington for more than 15 years, was appointed to the council in 2016 to fill the vacancy created when Anne Gerwig was elected mayor.
"It was almost two years ago that the mayor, Councilman [Michael] Drahos, Councilman [Michael] Napoleone and I selected Councilwoman Siskind to be the best fit council person. At the time, people weren't sure if she had what it took. Today she showed us that she does," McGovern said.
Siskind has a long history of school involvement in the village, and aims to help maintain the quality of the village's schools. Siskind voiced her goal to continue helping people in the community and her excitement to continue to serve as a leader in Wellington.
"I am so proud to serve everybody in the Village of Wellington," she said. "I'm so excited to be staying on the council for four more years."
Siskind expressed her appreciation for the existing council's ability to work together. She, like McGovern, aims to keep the Wellington community moving in the right direction.
"We have a great council now. We don't always agree, but we work well together in order to benefit the whole community," Siskind said. "I think that people are happy with the way things are going and that [their] council is approachable and caring, and that is why I believe they voted by such a large majority to keep us."
McGovern and Siskind showed appreciation for everyone who voted to keep them on the council.
"I want to thank the voters of Wellington who turned out to vote today to say that, one, the village is on the right track and, two, that casting the ballot and being counted and heard is important," McGovern said.
He took their victory as proof that the people of Wellington are happy with the council's work over the past few years.
"As we move forward, we will be able to make tough decisions, and we also will be able to serve as visionaries, as we take this community to the next level," McGovern said. "As development happens around us, Wellington will remain the premier place to raise a family, live, work and play, and that is not because of me alone, or Tanya alone, but because of this entire council, together with all residents."