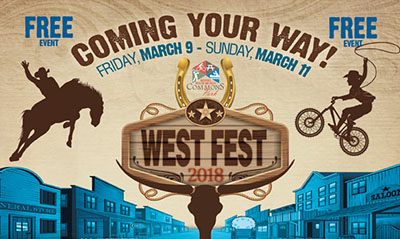 By Erin Davisson
Giddy up, partner! West Fest will return to Royal Palm Beach Commons Park for a rootin' tootin' fun time from Friday, March 9 through Sunday, March 11 featuring new and classic events that no one will want to miss.
This year, West Fest is introducing a new event — the Bike Trail Rodeo. Strap those helmets on and enjoy three routes for specific bikers: beginners, intermediate and advanced. The start times at this non-competitive event on Saturday, March 10 are 9 a.m. for advanced riders, 9:30 a.m. for intermediate riders and 10 a.m. for beginner riders. A route map can be found at www.royalpalmbeach.com.
Want some spice in your life? West Fest is once again hosting its annual chili cook-off in the afternoon on Saturday. Sign-ups are still open online, and the event is available for both top-notch chili cookers and for those beginners who are just starting out making chili.
"The beginners and the advanced are not competing together," Royal Palm Beach Community & Cultural Events Superintendent Carlos Morales said. "They are both separate so that the newcomers have a fair chance."
Since anybody visiting West Fest is invited to sample the chili offerings, there are no official judges. Sample tasting is $5, while supplies last.
For young children, West Fest will include a petting zoo located right by the horse rides and hayrides, with all three for free. For those who are more creative, there will be children's craft stations, as well as dozens of arts and crafts vendors conveniently located at the center of West Fest.
Among the community events on stage will be two martial arts demonstrations for everyone to enjoy. The first demonstration will be performed by Villari's of Wellington Swift Tigers Martial Arts on Friday at 5 p.m. The second demonstration will be performed by the Master Ken Martial Arts Academy on Sunday at 2 p.m. To encourage children to participate in more activities, the community organized the martial arts demonstrations to show children the fun and enjoyment of the activities.
The Paul Bunyan Lumberjack show is back once again from Orlando and will have everything from ax throwing to chainsaw cutting and log rolling. With seven shows throughout the weekend, it will be one intense showdown.
Mr. and Miss West Fest is back for contestants of all ages. Dress up in those cowboy boots and put on the ten-gallon hats, but sign up soon, since there is limited space available.
The central feature of West Fest will be the brand-new Royal Palm Beach Amphitheater, which opened last October.
"Our new amphitheater has a new sound to it so that people can enjoy the performing band," Morales said.
There will be many bands performing on the amphitheater stage throughout the weekend. West Fest will have Matt Stone performing an Elvis tribute and the Tom Jackson Band on Friday evening. Saturday's entertainment will include the Sweeney Family Band, the Maggie Baugh Band and the Preacher Stone Band, as well as Tim McGraw and Kenny Chesney tribute bands. On Sunday, guests can enjoy Alyssa Coon, Juna n Joey, Matthew Sabatella and the Rambling String Band, Amanda Keller and the Women of Country Tribute, Danny Grant's Cowboy Circus Show and the Ultimate Garth Brooks Tribute, as well as local performers Western Academy and Movement Arts Academy.
What kind of festival would West Fest be without carnival rides? Enjoy the fun with friends and family in the ride area, with tickets and wristbands available for purchase.
Advance tickets and wristband sales are currently available at a discount at the Royal Palm Beach Recreation Center, located at 100 Sweet Bay Lane. An 18-ticket pack is $10, saving $5, and there is an all-weekend carnival ride pass available for $45.
Regular price unlimited ride wristbands will be available for purchase at the carnival ticket booths during West Fest for $25 each, with a variety of other ticket packages available.
There will be plenty of vendors on site for food purchases. For adults, the swamp bar will have a variety of mixed drinks and beer. Outside beverages are strictly prohibited. ATMs will be stationed around the arts and food vendors.
Attendees are advised to arrive early to beat the rush. Parking will be available throughout the park. Bring blankets, towels or chairs if you plan to enjoy the entertainment.
Royal Palm Beach Commons Park is located at 11600 Poinciana Blvd. For more information about the schedule, specific events or to sign up, visit www.rpbwestfest.com or call (561) 790-5149.