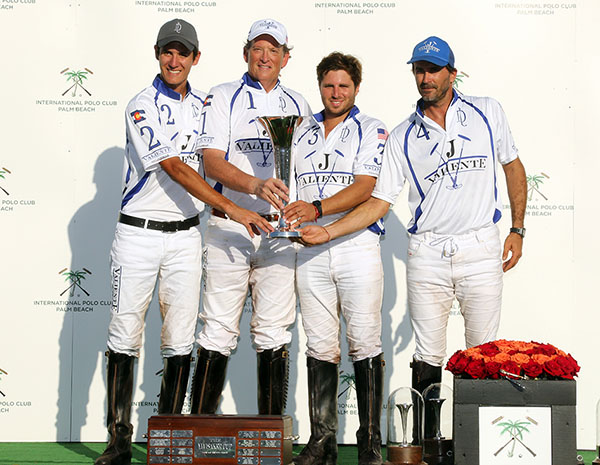 Eager to pull out the ultimate upset of the Ylvisaker Cup tournament, finalist GSA challenged Valiente for the prestigious title on Sunday, Feb. 25 at the International Polo Club Palm Beach. Previously losing by one goal in their first tournament match up, GSA's valiant effort for redemption ultimately came up short, with Valiente outscoring their opponent 8-6.
Anticipating strong, fast polo, GSA's Mariano Gonzalez took the ball straight to goal within the first minute of play. Valiente nimbly responding with two goals of their own. Competitive throughout the first half, both teams battled for the edge that would put them ahead. Two unanswered goals gave GSA the lead after two chukkers. Recognizing an opening in the third, Adolfo Cambiaso picked up a loose ball and scored an easy goal. A final goal by Matias Magrini ended the half 4-3 in favor of GSA.
Riddled by penalties, play slowed in the second half as a determined GSA fought to shut down Valiente's set plays. Opening the fourth with an undefended Penalty 2 conversion from the spot, Cambiaso dominated the fourth and fifth chukkers, scoring four consecutive goals, including three off the penalty line. Not to be underestimated, Henry Porter continued to pursue players well above his handicap. Gonzalez received a yellow flag in the fifth and immediately took out his frustration by working the ball down field past Santi Torres to score GSA's first goal since the third chukker.
Heading into the final chukker 7-5, Valiente was unstoppable and sealed the win with a final pass up to Torres, who put the ball between the goal posts. Relentless until the end, GSA displayed strategic player positioning and managed to pick up the last goal by Dylan Rossiter, ending the game with a win for Valiente 8-6.
Reflecting on his first high-goal tournament, Bautista Panelo was happy with the day's outcome. "I have worked with Valiente since 2014, and work with the horses," he said. "Chance and Aerea, my fourth and fifth chukkers were bred from La Dolfina. I trained them, and so my happiness is doubled getting to play horses that I have trained. I never imagined that I would be here playing. They told me in December that I was on the team, so this is kind of new for me."
Scoring six of Valiente's eight goals, Cambiaso was named Most Valuable Player. Best Playing Pony honors were awarded, for the second time in the tournament to Macarena, played by GSA's Mariano Gonzalez in the first and fifth chukkers.
For more information about the International Polo Club Palm Beach, visit www.internationalpoloclub.com.