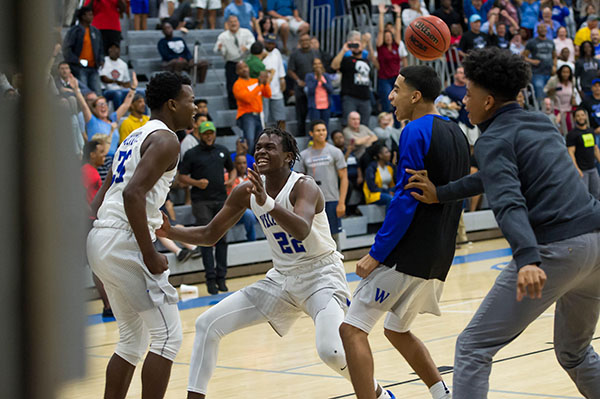 A pair of free throws from Wellington High School's Cornelius Butler with 14 seconds remaining broke a late rally by the Boca Raton High School Bobcats. The buckets sealed a 51-49 Class 9A regional quarterfinal win for the Wolverines on Thursday, Feb. 22 in Wellington.
"That was a very exciting high school basketball game; two stellar teams competing to the very last second," Wellington coach Matt Colin said. "I'm so excited for a kid like Cornelius. He actually hurt his back yesterday in practice. We weren't sure if he was going to play tonight, but he stepped up and knocked in two crucial free throws for us."
The victory also keeps Wellington's amazing season record unblemished at 28-0.
The Wolverines started the contest strong. Seconds in, Nicholas Toledo launched a ball toward the rim from near mid-court that fell into the grasp of Texan Moulton, who made a dunk that shook the boards to send the crowd into an early frenzy.
After Moulton's theatrical slam dunk, the Wolverines dropped in a pair of three-point buckets by Bryan Williams and Jonathan Philistin to notch an 8-2 early lead. Wellington took advantage of a couple of Boca turnovers and soon led 19-7 entering the second period.
Boca gained some momentum in the second period with accurate shooting from the outside that the Wolverines had difficulty stopping. Wellington's offense controlled the balance, maintaining the lead 31-27 at the half.
Early in the second half, the game was close, with both teams struggling to take control, but the Wolverines did just enough on both sides of the ball to keep the lead. Linton Brown added to the dunk stat for the Wolverines, as he took the ball and sank it through the net to lift Wellington to a 40-33 advantage.
With the Wolverines clenching to the lead going into the fourth period 43-35, the Bobcats clawed back with some momentum, cutting away at the Wellington lead. Boca pulled within three with just over three minutes left and tied it at 49-49 with 46 seconds remaining on the ticker.
The Wolverines patiently controlled possession in the final minute and were awarded a pair of free throws after Butler was fouled, putting Wellington in prime position to retake the lead. Butler dropped both in to propel the Wolverines back into the lead 51-49. Wellington's defense kept Boca to the outside and forced a last-second three-point attempt that was denied. The Wolverines took possession as the clock ticked down to the final buzzer.
Williams and Brown each put up 10 points for Wellington. Philistin had 11 points, and Toledo also recorded 10 points.
Wellington hosted Atlantic High School on Tuesday in the regional semifinal game, but results were not available by press time.