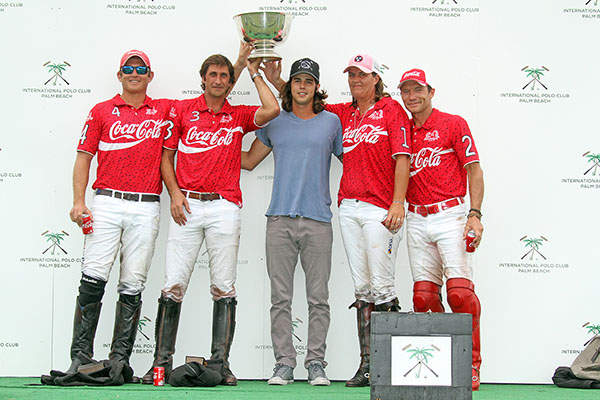 On Saturday, March 31, undefeated La Indiana and Coca-Cola met at the International Polo Club Palm Beach in Wellington with hopes to secure the first Carlos Gracida Cup title. In a close back-and-forth game, Coca-Cola secured an 11-10 win in overtime.
Adrenaline pumping from the first throw-in, Coca-Cola scored the opening goal in the first 40 seconds off of Steve Krueger's mallet. La Indiana's Jeff Hall quickly answered back, setting the tone for the rest of the game. Intense play ensued in the first three chukkers, as the Coca-Cola squad played tough defense with Sugar Erskine effectively blocking several La Indiana shots on goal. Despite Coca-Cola's defensive plays, each La Indiana player made it on the board in the first half to begin the fourth chukker tied 4-4.
The second half was characterized by several fouls, as both teams fought to gain control of the scoreboard. Back-to-back La Indiana goals from Toro Ruiz and Hall were quickly matched by goals from Krueger and a powerful team play by Gillian Johnston and Nacho Novillo Astrada. A Penalty 4 conversion from Hall, his third goal of the day, gave La Indiana a 7-6 lead with two chukkers remaining.
Coca-Cola, determined not to let the game slip away, added two goals in the fifth, shutting out La Indiana. With only a one-goal difference on the board, sixth chukker play was aggressive. Facundo Obregon, solid from the penalty line, sunk a Penalty 2 to equalize the score yet again 8-8. Coca-Cola's Erskine was not about to give up so easily, making an impressive run to goal that had the crowd cheering from the sidelines. With only a few seconds remaining in regulation time, Coca-Cola held the lead 10-9, but La Indiana quickly gained an opportunity to force the game into overtime with a Penalty 2 scored again by Obregon. A successful shot through the uprights sent the game into a seventh chukker.
Five seconds into the overtime period, a Penalty 4 was awarded to Astrada, who successfully converted, securing the Carlos Gracida Cup for Coca-Cola 11-10.
Most Valuable Player was awarded to Erskine, whose defensive plays and impressive field goals helped propel Coca-Cola to victory.
"We knew they were going to be super tough because of the way they have been playing the whole year. They kind of had us, and scored a few goals on us, but we got it back in the end," Erskine said. "We kept pushing and pulling, and they are super handy and sticky as a team, but we just kept pushing and were happy to take home the win."
Best Playing Pony honors were awarded to Gillian Johnston's eight-year-old mare Fanta, played in the first, fifth and overtime chukker.
"I feel super lucky to be back after my injury and to win this tournament," Erskine said. "Carlos Gracida was a huge part of my heart throughout my life. I was a fanatic back in the day when we didn't have all of the coverage and internet articles. You would get the occasional magazine, and he was in it, and he was a huge part of my life. I idolized him when I was a kid. When I got here to the states, I got to meet my hero and play against him, and it was a very sad day when he passed. It meant a lot to me to win the first tournament here in his name, the Carlos Gracida Cup."