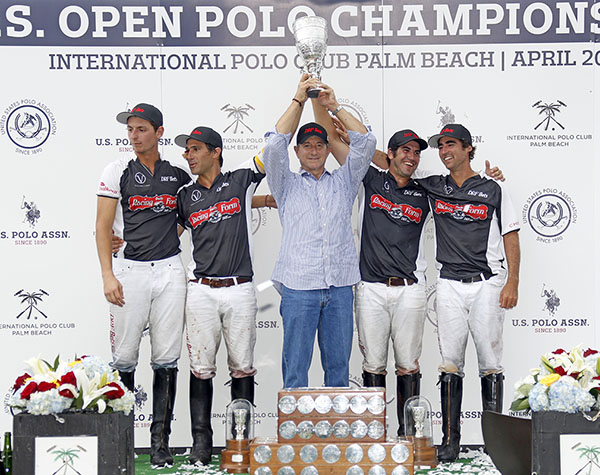 Competing passionately for the most prestigious title in American polo, Daily Racing Form advanced undefeated into the U.S. Open Polo Championship Final alongside the seemingly indomitable Valiente on Sunday, April 22 at the International Polo Club Palm Beach. Matching Valiente goal for goal, Daily Racing Form's powerful offensive drives held a consistent one-goal lead throughout the second half, effectively derailing Valiente's clean sweep of the Triple Crown of Polo, to claim the season's final title 10-9.
A battle between opposing 10-goalers in the first half, Hilario Ulloa held his own against the formidable duo of Adolfo Cambiaso and Facundo Pieres with aggressive, fast plays. At the two-minute mark Pieres claimed the first goal of the game. Ulloa answered with a breakaway field goal despite Tommy Beresford's attempt to hook. A neckshot pass from Cambiaso to Pieres for the score gave Valiente the lead 2-1 moving into chukker two.
Both teams struggled to increase their tallies as possession was stolen and goal shots were deflected. Finally, with just over three minutes remaining in the second, both teams picked up a penalty conversion. Immediately responding to Pieres' Penalty 3, Ulloa made a strong break from the throw-in and propelled straight to goal to tie the game 3-3. Opening the third with back-to-back goals from Ulloa, Daily Racing Form increased its momentum with confident plays, benefiting from Valiente's shots falling wide, to end the half leading 5-4.
Daily Racing Form played with relentless strength and well-executed team strategy in the second half. Each team added one goal in the fourth, and Daily Racing Form remained on top. The fifth began aggressively as both teams fought for possession. A backshot from Valiente mistakenly struck Ulloa in the face early in the chukker. The team captain was down for several minutes. However, Ulloa persisted, and despite a deep cut and bruise on the side of his right eye, he remounted to finish what his team had started.
Once play resumed, Valiente kept the game close. Matching every goal in the fifth, after two field goals and a penalty conversion from each team, the lead remained unchanged with Daily Racing Form ahead 9-8. Still anybody's game, both teams made strategic offensive moves in the sixth. Mariano Obregon's efforts to score narrowly missing the target twice. Completing a beautiful shot on goal from distance, Jared Zenni sent the ball soaring through the air with only a few minutes left for Valiente to recover. A final Penalty 2 conversion by Pieres was not enough to reclaim the lead, with Daily Racing Form winning 10-9.
Showcasing exceptional discipline and skill on defense, and securing two field goals for Daily Racing Form, Zenni was named Most Valuable Player. Best Playing Pony honors were presented to Milenaria, an 8-year-old dark bay Argentine mare trained by Javier Canton and owned and ridden by Obregon.
Fans are encouraged to relive the action of the 2018 U.S. Open Polo Championship Final on Sunday, April 29 at 2 p.m. on CBS Sports.