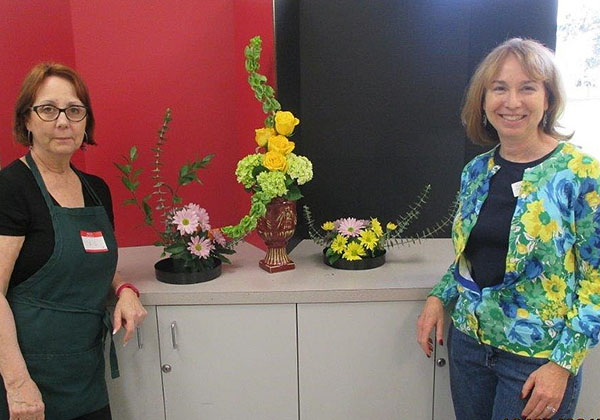 The Wellington Garden Club will host its "Tropical Heat Wave" flower show in the Grand Court on the lower level of the Mall at Wellington Green on Saturday, April 14 from 10 a.m. to 7 p.m. and Sunday, April 15 from 11 a.m. to 4 p.m.
Visitors will view exquisite floral designs, incredible horticulture, special educational exhibits, botanical arts and youth entries that tell the story of Florida's essence as a tropical paradise. The flower show is free and open to the public as a community and education event.
"We want to introduce the wonderful world of plants, floral design, botanical arts, photography and our young enthusiasts to the general public," Flower Show Chair Twig Morris said.
Juried by accredited flower show judges by the National Garden Clubs, the competition will take place the day before, on that Friday.
"When it opens to the public on Saturday and Sunday, the public will be able to see the blue, red, yellow or white (honorable mention) ribbons on a plant, design, photograph or something new we call botanical arts," Morris said. "Included with each ribbon will be the judges' comments for the public to know why a certain entry won over another and what made each special."
The Wellington Garden Club, a nonprofit organization, was established in 1981 and became a part of the Florida Federation of Garden Clubs and National Garden Clubs in 1982. Federated as a garden club for more than 35 years with 148 members, the mission of the club is to further the education of members and the public in the fields of gardening, horticulture, botany, floral design, landscape design, environmental awareness through the conservation of resources, civic beautification, nature studies, and to instill in youth the love of gardening and the respect and protection of the environment.
Horticulture exhibits will include orchids, cacti, begonias, bromeliads and more. Included throughout the event will be creative designs interpreting a wide variety of weather events, hats and other wearable items made entirely of plant material, as well as spectacular photos depicting the charms of nature.
Other exhibits will help visitors understand the importance of protecting Florida's waters and how to stormproof their landscaping. Youth exhibits in design and horticulture feature third, fourth, and fifth-grade students from the Greenacres aftercare program and children from the Neil S. Hirsch Family Boys & Girls Club of Wellington. Their exhibits will demonstrate that area youth "Plant America, Rain or Shine."
Visitors to the show can select their favorite exhibit via the People's Choice Awards as they stroll through the show and are encouraged to cast their votes for the one they like best. Other attractions at the show include raffle prizes donated by the local merchants, design tips and horticulture advice at the "Ask the Expert" booth.
For more information, visit www.wellingtongardenclub.org.