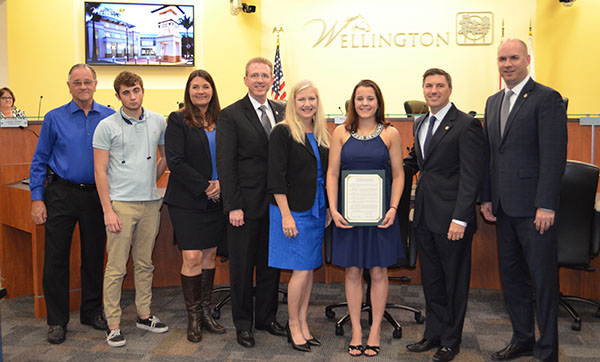 The Wellington Village Council appointed Councilman Michael Drahos to serve as vice mayor for the coming year on Tuesday, April 10.
After being nominated by Councilman Michael Napoleone, Drahos accepted the nomination under the condition that Napoleone take over as vice mayor in 2019.
Drahos proposed that the council begin rotating the vice mayor position every year instead of every two years, as has been the norm for the largely ceremonial position in the past. Councilman John McGovern has served as vice mayor for the past two years.
"It is an honor to serve [as vice mayor] on this council," Drahos said. "Mr. McGovern has done a fantastic job these last few years and has set a great example, but everyone on the council should get an opportunity to [serve]. So, I think doing it this way is the right thing to do."
Drahos was raised in Wellington. He was elected to the council in 2016. He previously served on Wellington's Education Committee and was a member of the Wellington Planning & Zoning Board. An attorney, Drahos was also the founder of the Young Professionals of Wellington.
Also Tuesday, the council recognized two important Wellington achievers — Wellington High School student Hosanna Kropp and Wellington's Village Engineer Thomas J. Lundeen.
The council honored 11th-grader Kropp for her outstanding performance as a wrestler at Wellington High School. Kropp made history for the high school's athletics department when she won the 2018 state championship title in girls wrestling in February.
Kropp is a member of the predominantly male wrestling team at Wellington High School. She competed against and defeated all other top-level high school female wrestlers in the state. Her victory makes her the first athlete from Wellington High School — and the second in Palm Beach County — to win at a state championship level for wrestling.
"We could not be any more impressed," Mayor Anne Gerwig said. "It is wonderful to have you in our community, and we are glad to be able to recognize you."
Lundeen, who has been the village engineer since 2016, was recognized for being awarded the 2018 Frank J. Gargiulo Government Engineer of the Year Award by the Palm Beach Branch of the American Society of Civil Engineers. Lundeen was presented with the award on Thursday, March 29.
The Frank J. Gargiulo Government Engineer of the Year Award is awarded annually to one of the society's engineers employed by a government agency who has excelled professionally in order to benefit and enhance the community.
"I know that one of the reasons you were recognized was for your work in the community, not just your professional work, but for what you have done with the youth and teaching about engineering," Gerwig said. "I want to thank you for that element of your service."
As a beneficiary of the Palm Beach Branch's award, Lundeen now qualifies to possibly win the Florida Branch of the American Society of Civil Engineer's award.
"If there is one thing I have learned over my career of 37 years so far, it is that one person [alone] does not make a big difference," Lundeen said. "Therefore, I must share this award with my coworkers and consultants. I have worked with amazing people during this relatively short time in Wellington. As it was an honor to be recognized by my ASCE peers, it is truly an honor to be recognized by your employer at a public meeting."