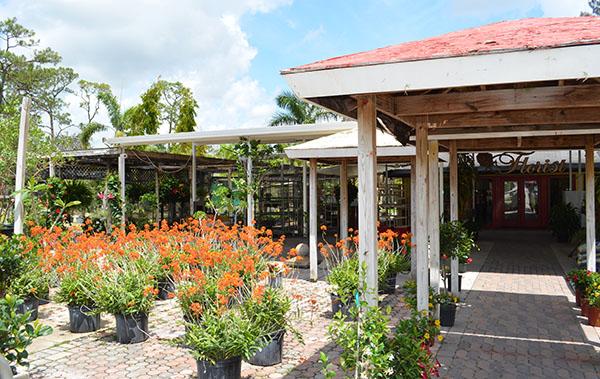 The Farmer's Daughter Produce Market & Garden Center, located on Southern Blvd. in Loxahatchee Groves, is closing its doors on April 30.
For nearly 26 years, owner Julia Campbell has provided thousands of residents in the western communities with fresh produce, locally made and distributed foods, and beautiful plants and flowers.
As a small business owner, Campbell has dedicated years of hard work and much of her life to maintaining the market. Although her business has been personally fulfilling and rewarding, Campbell has decided that it is the right time for her to retire from it.
"I love the whole business, but anybody that is in this [field] will tell you that after being pulled in so many different directions, you wake up one day and you realize that you are just so tired," she said. "You want to have time to visit your kids or go to your grandkids' recitals, so it's time."
Campbell will miss several aspects of being a small business owner in the community. Primarily, she will miss interacting with so many different people on a daily basis.
"I will miss being around customers every day," she said. "A lot of my customers have become friends. I know them, and they know me — they know my personality. But I hope they know they can call me at any time if they have problems with their plants."
Along with her customers, Campbell will also miss being able to provide locals with fresh, safe and reliable produce. One of the hardest parts of closing, Campbell explained, has been listening to her regular customers' concerns about where they will buy fresh fruits and vegetables after the market closes.
"People keep asking me where they're going to get fresh tomatoes, and I understand [their concerns], because when you buy produce, you want it to be clean and fresh," Campbell said. "People should know where the food they are buying is coming from. I was always careful where I bought my produce from, because it was important for me to know that the produce I was selling to the public was not going to make anyone sick."
Campbell's concern is that, in the near future, people will no longer have the option to shop at local farmer's markets for goods like fruits, vegetables and other local, organic foods.
"The really sad part of all of this is seeing that little produce markets like this one will soon no longer exist, and people will be forced to buy their produce from big boxes at big supermarkets," she said. "Years ago, a farmer could grow tomatoes, beans and corn and sell them on a little stand on the side of the road, but we can't do that anymore. So, we are then faced with issues like we are having with [unsafe] romaine lettuce right now, because we don't know where foods are coming from. Small markets don't have these issues, because we know where the food we sell comes from."
As for her next move after the market's closure, Campbell and her team of gardeners will continue to provide private landscaping services for clients.
Campbell and her team will go into clients' yards and gardens to clean them up — mulching, fertilizing and replacing any dead plants.
"A lot of people really like to take care of their yards, but they don't necessarily have the time to do it themselves, so they hire people like us," Campbell explained.
Campbell, who expressed having inherited a gardening gene from her mother, aims to remain busy by aiding her clients in keeping their gardens healthy and beautiful while preserving natural scenery in the community.
"I have been gardening my whole life," she said. "I look at plants differently than most people do. They are living things that need to be nurtured and cared for — and, really, it hurts me to see dead plants or plants that are not well taken care of."
Campbell is looking forward to continuing serving and interacting with the people of the western communities in the future.
"I have learned so much, and it has been a wonderful time. I have enjoyed every second of it, and I would do it all over again," she said. "Truly, I feel very blessed to have been able to serve and meet so many people. I got so much more from this business than just making a living because it has been such a reward to meet so many people."
The Farmer's Daughter Produce Market & Garden Center is still currently selling what is left of its produce and plant supply. The market is located at 13415 Southern Blvd.
Julia Campbell can be reached at (561) 329-5000 for more information about landscaping inquiries.