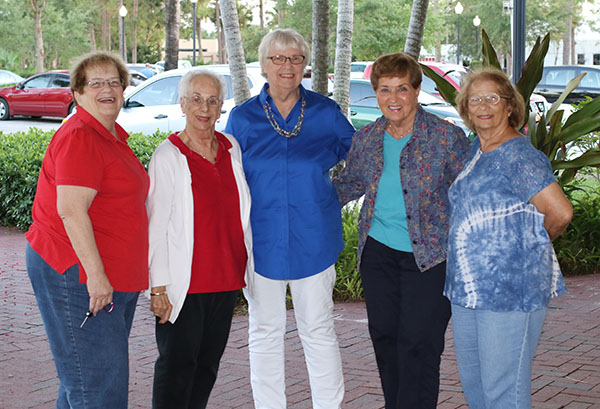 Representatives of Seniors Helping Seniors spoke at the Thursday, April 5 meeting of the Royal Palm Beach Village Council to update village officials about the new group, which is dedicated to aiding people, especially seniors, with their needs.
Called Seniors Helping Seniors of Royal Palm Beach, the group of volunteers deals with thoroughly vetted agencies to provide information and assistance on health issues, Social Security, insurance, transportation, elder abuse and many others.
"I am here to report on the group we are putting together called Seniors Helping Seniors," Judy Kohler said. "I want to thank the village council for its support. Last June, you adopted our recommendation for implementation to establish an advocacy team of volunteers to ensure seniors and caregivers gain access to appropriate services."
The concept was developed out of the village's Senior Citizen Ad Hoc Advisory Board, which met last year to discuss the needs of senior citizens in Royal Palm Beach.
"A group of us got together to ask what can we do to move this forward and make this happen," Kohler continued. "That is where we are today. I really want to thank the village staff, including Lou Recchio and Jeannine Delgardio. They have been absolutely fantastic."
Kohler explained that members of the group have also had a tour with the Area Agency on Aging and learned about their Circle of Care resources, as well as those resources available from Palm Beach County. "We've made a lot of contacts with people who can help," she said.
Sandy Rubin, another member of the group, spoke about their primary resource in helping local seniors, the Area Agency on Aging, based in West Palm Beach.
"I am here to tell you about our tour," said Rubin, who said the organization's facility is huge. "The people are fabulous. They speak all different languages. If we ever have a problem, we know who to call. We met the CEO, and we met with the person involved in [preventing] scams, fraud or anything seniors might have a problem with. We also met with the helpline organizer."
Rubin also announced that the group worked with its first client earlier that day. "So, it's all coming to fruition," she said. "Thank you."
Kohler said that the group has a desk at the Royal Palm Beach Recreation Center for anyone who needs senior services. "Everything we do is confidential, and we are off and running," she said. "If anyone has any questions, please contact the rec center or give us a call."
Royal Palm Beach Recreation Center is located at 100 Sweet Bay Lane. Hours the group will staff the help desk will be Tuesday from 10 a.m. to noon and Thursday from 1 to 3 p.m. For more information, call (561) 790-5149.