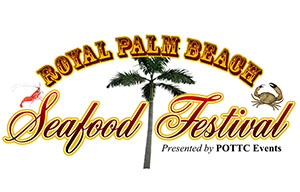 By Erin Davisson
Expect a tasty feast and great fun for children and adults at the Royal Palm Beach Seafood Festival to be hosted at Royal Palm Beach Commons Park on Saturday, May 19 from 11 a.m. to 8 p.m. and Sunday, May 20 from 11 a.m. to 6 p.m.
Originally begun three years ago in downtown West Palm Beach as part of the activities complementing a fishing tournament, the event expanded into a full seafood festival and outgrew its venue.
Kathy Gilbert of POTTC Events, who specializes in themed events, organizes and runs the seafood festival. Gilbert, who already runs several special events in Royal Palm Beach, is excited about the big decision to move the Seafood Festival to Royal Palm Beach.
"The festival needed to grow more. This was a big and important step," said Gilbert who explained how convenient the move was personally. "It's closer to our hometown, so it's easier for us to set up."
As the new host, Royal Palm Beach offers benefits to guests at the festival. The event will be held over two days in the 167-acre Commons Park, with its great lawn surrounded by water. There is now room for several large shade tents to cool off in while dining, and the village offers convenient traffic flow and free parking, unlike the situation in congested downtown West Palm Beach, Gilbert said.
Plus, the location is more spacious to ensure that the free admission event is more enjoyable for guests who stroll among the vendors booths, partake of the activities and enjoy the concerts.
Vendors will serve up delicious offerings of the freshest seafood, such as lobster, oysters, conch, crab, shrimp, calamari, tuna and other fish. Food for both seafood and non-seafood lovers will be available. For adults, there will be a bar serving cold beer, rum drinks and great cocktails.
There will be a kids' fun zone, a play area especially for children, so they can do more than just eat.
For great buys and browsing, vendors will be offering jewelry, art, crafts, specialty items and nautical-related merchandise, along with other fun shopping items, during the entire festival.
On Saturday, there will be a special interactive games event. It's mostly for children, but adults who want to enjoy the interactive experience can participate as well.
A classic and custom car show rolls in on Sunday featuring many of your car favorites to feast your eyes upon.
In addition to the car show and interactive games, there will be musical shows both days playing your favorite tunes, ranging from pop to rock to calypso to reggae and more. Spectators can see Bad Inc., for all the best of Bad Company, and 4NR, the Foreigner tribute band. The Caribbean Chillers, a Jimmy Buffett tribute band, will perform on Sunday, so prepare for the Margaritaville experience.
There will also be spots to take photos with characters such as costumed pirates and beautiful mermaids. The bands and shows are guaranteed to create a fun atmosphere and make the festival even more exciting. "We want everyone to have a great time," Gilbert said. "We're anticipating a big turnout."
She explained that this year, they are inviting a children's health organization charity to be part of this event. Donations will be accepted during the event and will be greatly appreciated. "All the donations will go directly to the people that need it," Gilbert said.
For more information about the event, visit www.royalpalmbeachseafoodfestival.com.