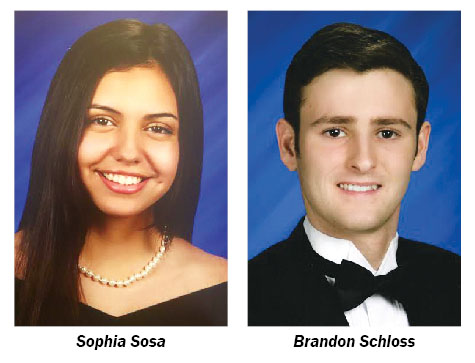 Wellington High School's Class of 2018 graduates on Thursday, May 17 at noon at the South Florida Fairgrounds, and leading the way will be valedictorian Sophia Sosa and salutatorian Brandon Schloss.
Sosa moved to Wellington from Long Island, N.Y., in 2014, which is when she began at Wellington High School. She was in the top 5 percent of her class throughout her four years at WHS.
"I was really happy [to be named valedictorian] because all of my hard work paid off," Sosa said.
Along with Sosa's dedication to her schoolwork, she became involved with various school organizations, such as DECA, the National Honor Society and the Spanish National Honor Society.
Sosa was also the founder and president of her own club at WHS, Feed Those in Need. Through the club, Sosa managed food donations from local businesses to benefit those in need throughout the community.
"We were able to redistribute foods like bagels from Brooklyn Water Bagels to local food banks," Sosa explained.
Outside of school, Sosa interned at Binks Forest Elementary School, mentoring and teaching students on subjects like sustainability and environmental issues.
Sosa credits several Wellington High School educators for her success and achievements.
"I really have to give credit to Mr. [Erik] Wilkinson, my DECA advisor, Mr. [Geoffrey] Shank and Mrs. [Karen] Dooley, who actually wrote a college recommendation letter for me," Sosa said. "More than [anything else, I am] grateful for everyone who helped me get to this place."
Sosa will be attending Stanford University in California in the fall, where she will major in international relations. She plans on attending law school or getting her master's degree in business administration after earning her undergraduate degree.
Sosa looks forward to addressing her classmates and the staff of Wellington High School at the May 17 graduation ceremony. She added that one of the main lessons she gained from her high school experience was the importance of hard work and the reward that stems from it.
"When thinking of the future, it's important to always put forth the most effort into everything that you do because with hard work, you can get where you want to be," Sosa said.
Wellington's salutatorian, Brandon Schloss, also knows a thing or two about hard work. Like Sosa, Schloss excelled in his academics and extracurricular activities throughout his time at Wellington High School.
Schloss grew up in Wellington and attended New Horizons Elementary School and Okeeheelee Middle School, where he was part of a dual-language program, before attending Wellington High School.
Schloss was on the cross-country team all four years of high school, was part of the school's debate team and was a congressional intern with U.S. Rep. Lois Frankel (D-District 21).
Schloss also dedicated a lot of his time and effort to promote anti-bullying campaigns and messages.
"I think it's really important to be involved in the community as well as school," he said. "There are a lot of things to be learned in a classroom, but there are also so many things to be learned outside of a classroom."
Schloss looks forward to delivering his speech at graduation, and gives a lot of thanks to his debate teacher, Paul Gaba, for encouraging him to become a confident public speaker.
"I've had a lot of influential teachers in high school, but my debate teacher, Mr. Gaba, has been very supportive," Schloss said. "Debate gave me an outlet to become confident while speaking."
Schloss will be attending the University of Florida, where his father attended law school and where his sister currently attends. He will be focusing his studies on public policy or business within the university's Honors Program. Schloss aims to have a future in law or in government policy.
"One of the main things that I will take away from high school and wish to carry on forward is to work hard and always put your best foot forward," Schloss said.