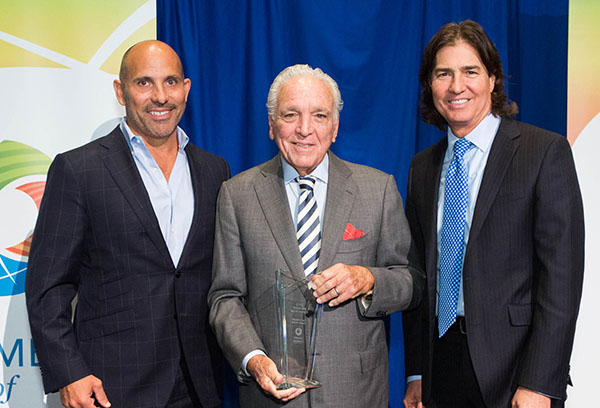 Florida Crystals Corporation founder Alfonso Fanjul was honored recently with the prestigious 2018 Leader of the Year Award by the Chamber of Commerce of the Palm Beaches.
"I am honored to be recognized by the Chamber of Commerce of the Palm Beaches, and I accept this honor on behalf of my entire family and our company's longstanding commitment to economic development and prosperity of our community," said Fanjul, chairman and CEO of Florida Crystals. "Palm Beach County is our home. West Palm Beach is our home base, where our headquarters are located. I'm proud to have built a business right here and to be a part of this wonderful business community."
Fanjul and his family founded Florida Crystals in 1960 as a sugarcane farming and milling company in western Palm Beach County. Over the last six decades, the Florida division of the company has grown to include two sugar mills, a sugar refinery, a rice mill, a packaging and distribution center, and the largest biomass renewable power plant in North America. Florida Crystals also pioneered the farming and milling of organic sugar in the United States and continues to be the only producer of organic cane sugar products 100 percent made in the U.S. — grown and milled in Florida.
Fanjul takes pride in Florida Crystals' steadfast commitment to the environment. As stewards of the land, Florida Crystals farms using the most advanced and sustainable techniques, including precision agriculture and best management practices, to grow more food to feed the rising global population, while offering the highest-quality care for the environment.
"As a lifetime farmer, I can tell you that farming is only as good as the land and resources you have, and what you have, you must protect," Fanjul said. "Air, land and water. Any farmer would tell you that. Our commitment to our land and environment could not be stronger."