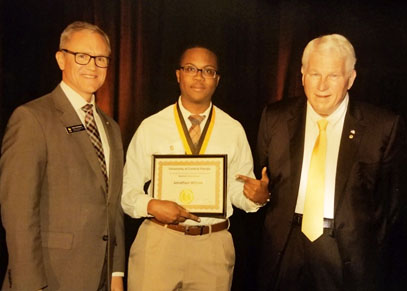 Wellington High School senior Jonathan Wilson recently joined the ranks of approximately 7,500 high school seniors to become a finalist in the National Merit Scholarship program.
About 1.5 million high school juniors entered the 2018 National Merit Scholarship Program by taking the 2016 Preliminary SAT/National Merit Scholarship Qualifying Test, which serves as the initial screen for program entrants. Semifinalists include the highest-scoring entrants in each state. To become a finalist, semifinalists must submit an application, including their academic record, participation in school and community activities, employment, awards and honors, along with an essay and a recommendation by a high school official.
Shown above is Wilson being honored by University of Central Florida outgoing President Dr. John C. Hitt and President-Elect Dr. Dale Whittaker at a banquet for National Merit Scholars at UCF.