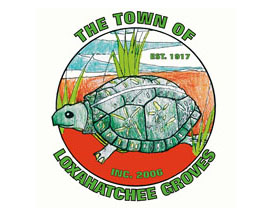 The Loxahatchee Groves Town Council decided Tuesday to change the hours of operation at Loxahatchee Groves Town Hall to a four-day, 10-hour-a-day work week.
Councilman Todd McLendon asked the council to consider a four-day work week for town hall, explaining that it currently opens at 9 a.m. and closes at 4 p.m., which is inconvenient for people who work during the day.
McLendon recommended being open from 8 a.m. to 6 p.m. four days a week. "That way we extend our hours, and people can get here at five o'clock when they need to be here, and they can be here early," he said, adding that Town Manager Bill Underwood is agreeable to doing that without a change in his contract. "We lose Friday, but we extend the hours, so people can have more access to the building."
Councilwoman Joyce Batcheler said many municipalities are open four days a week with extended hours. "It's very helpful," she said. "It depends on the town and the needs. Everyone gets used to the schedule."
During public comment, Neil O'Neal III pointed out that the town has a contract with Palm Beach County Planning & Zoning, which is open on Fridays. "That's no issue if there are contractors doing work, they can still get inspections on Friday," he said. "I'm OK with it."
Mayor Dave Browning said he has worked four days a week, 10 hours a day, and he liked it. "It's also better for our committees," he said.
Town Finance Director Perla Underwood said the switchboard closes at 4 p.m. but staff works much longer than that.
"Most days it's 12-hour days here, not just for Bill and I, but other staff members," she explained. "Sometimes it's 16 hours in one day. We have people who knock on the doors, and we let them in."
Browning pointed out that Bill Underwood and council members are available in emergencies, but the change in schedule would make the office more accessible for the general public.
Underwood said he would need to advertise the change in schedule, but it could start May 14.
McLendon made a motion to change the hours starting May 14, which carried 5-0.
In other business:
• The council approved the second and final reading of an ordinance designating the council as the Local Planning Agency, rather than the Planning & Zoning Board.
McLendon asked for the change, saying that the Planning & Zoning Board is getting bogged down due to the review of changes under consideration by the Unified Land Development Code Committee.
"I'm trying to expedite the ULDC," McLendon said, making a motion to approve the ordinance, which carried 5-0.
• The council also approved the preliminary reading of an ordinance removing appeals of special magistrate decisions to the council on applications for relief from liens, making the special magistrate the final authority, other than a court appeal.
• The council awarded a bid for road drainage construction to WBI Contracting with Johnson & Davis as a backup firm.
Underwood said the town received three bids that were reviewed by the engineer.
"We concur with them that we award it to WBI Contracting of Palm Beach County, with a second, because they actually came in with a slightly lower price, Johnson & Davis, on the type-two drainage, which is the smaller plot of land versus running out a swale and catch basin," Underwood said.
Councilwoman Phillis Maniglia asked when the construction will begin, and Underwood said the following day if approved by the council.
Underwood said town staff would identify 10 spots to begin with drainage improvements, and that all projects would be designed with future road improvements in mind, so the culverts do not become obsolete as rock is added to the roads.
Resident Joannie Hopkins asked if the council or the manager would pick the 10 projects. McLendon said Underwood and the engineer would select the worst ones and move on from there.
Browning explained that the manager and engineer are more knowledgeable than the council in this area. "The engineer can determine that, with some input from us," he said. "It won't be just those 10 that get done. This is just the beginning of a process."
Councilman Dave DeMarois made a motion to approve the ordinance, which carried 5-0.
• The council also authorized the town manager and attorney to take whatever action necessary to provide as smooth a transition as possible for the possible merger of the town and Loxahatchee Groves Water Control District.
"The merger requires a lot of legislative action," Underwood said. "In the event the district becomes part of the town, we would propose a meeting the following morning, [June 26] after the election, and there's a litany of legislative documents that the attorney needs to prepare."
McLendon made a motion for town staff to take whatever action is necessary, which carried 5-0.
• In his manager's report Underwood said that the Palm Beach County Sheriff's Office contract is set to go up 3 percent, or roughly $18,300, next year.
He added that the town attorney is working on enforcement of no through trucks on Okeechobee Blvd.
He also asked for approval of a joint mailer to residents on the June 25 district merger referendum about the facts surrounding dependency to the town.
"We would like authorization to work with the district, using their logo and whatever facts they have to do a joint mailer," Underwood said. "We'll pay for the mailer and get it out to the residents as soon as possible."
McLendon made a motion to approve the joint effort for a mailer, which carried 5-0.
Underwood added that the town had submitted letters to the PBSO, Palm Beach County Fire-Rescue and the School District of Palm Beach County regarding the possible closing of the 40th Street North and 140th Avenue North cut-through.
"The PBSO had a couple of good recommendations to close it off but make it accessible to public safety," he said.
Several residents spoke on both sides of the issue, citing public safety concerns versus convenience.
• Finally, Batcheler asked the council to consider a charter amendment that would allow the council to borrow money and repay it in more than three years, which is all the charter allows now.
"There may be times that we have to do a really big project," Batcheler said. "I don't know how much money we can possibly pay back in three years in our current financial situation if we have a major catastrophe."
She said she would like to schedule a voter referendum asking to extend the repayment time for a bond issue.
Town Attorney Michael Cirullo said he could prepare an agenda item to hold a referendum next March.
McLendon made a motion to ask voters to approve changing the repayment time from three to 11 years, which carried 5-0.