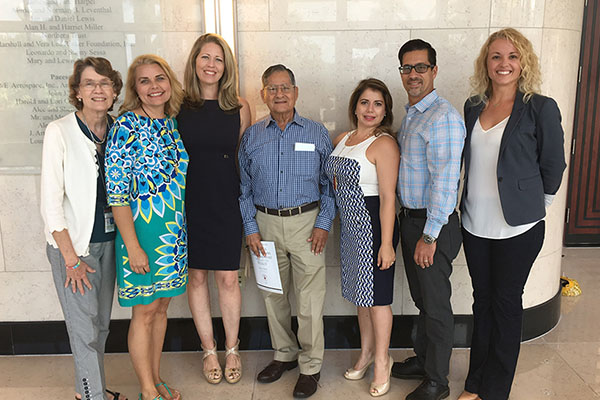 New Horizons Elementary School benefits tremendously from the active parent support it receives on a daily basis. The school was recently recognized as a golden school for the number of volunteers registered and for the number of hours those volunteers have logged supporting the school.
Volunteers support student learning by working with students directly, supporting school events, reading to students and supporting teachers in any way that they can.
Melanie Stepp volunteers in support of the school's SECME club, substitutes often and is always present at school events to lend a hand. Kelly Scarberry, the school's business partner coordinator, recruits and collaborates with local businesses in support of the school, its events and special initiatives that benefit tremendously from business partnerships.
Senior volunteer Augusto Padilla works with students in the International Spanish Academy and shares cultural experiences and stories from his native country. The students call him "abuelito," and both the students and teachers are appreciative of his consistent support in the classroom. Monica and Eliseo Hernandez, of Sugar Machinery Engineering Inc. business partner, are always active in the school. Eliseo Hernandez serves on the School Advisory Council and Monica Hernandez volunteers at the school and helps decorate bulletin boards around campus.
New Horizons recently invited these outstanding individuals to be recognized at the Palm Beach County School District's Volunteer Breakfast hosted at the Kravis Center for the Performing Arts on Friday, May 4. New Horizons thanks all of its dedicated volunteers for their support of the students, staff and school and looks forward to continuing to honor their efforts both at the school and district level for years to come.