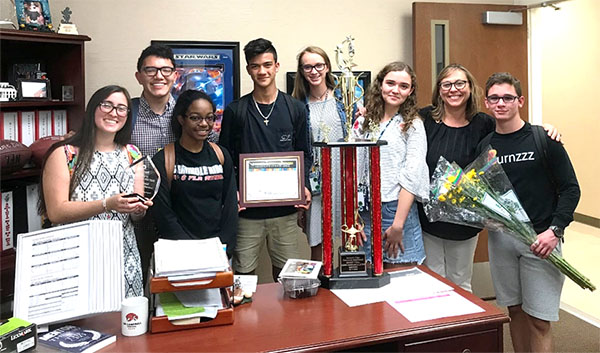 One Blood Inc. has acknowledged Seminole Ridge High School among all public and private high schools in Palm Beach County as the highest blood drive collector in a school year with 568 units of blood donated.
In addition, One Blood has named science teacher Shawna Ahmad its Chairperson of the Year. The SRHS blood drive team thanks the students, staff and community members who took part in this year's drives.
Tri-M Chooses Officers — The SRHS chapter of the Tri-M National Music Honor Society has chosen its officers for the coming school year. Congratulations to President Riley Reynolds, Vice President William Habegger, Treasurer Brendan Abraham, Secretary Victoria Holt and Historian Fantasia Bodon.
SRHS Dance Marathon Leadership Team 2018-19 — The leadership team has been chosen for next year's SRHS Dance Marathon. Congratulations to team leaders Paige Kercheville and Bella Martinez, and to team members Rocco Abiusi, Shelby Bakkedahl, Mikayla Bender, Alexis Bennett, Bryce Brant, Kateland Clothier, Alina Coelho, Brianna Demoura, Morgan Doran, Autumn Frost, Tristen Garrison, Alexa Grieco, John Heine, Kirstyn Johnson, Austin Jones, Savannah Linares, Marie Luciano-Sileo, Samantha Mata, Randy Medrano, Annamarie Renda, Fabian Richard, Katrina Riesgo, Melissa Tellez, Giselle Vazquez, Melisa Velasco, Abby Widrig and Max Willson.
Students of the Week — The Students of the Week program recognizes Hawks, nominated by staff, for their academic excellence, behavior and assistance with campus events. Congratulations to the Students of the Week for May 7-11: Cielo Diaz Pena (grade 9), Jordan Anderson (grade 10), Emma Rodriguez (grade 11) and Michael Clements (grade 12).