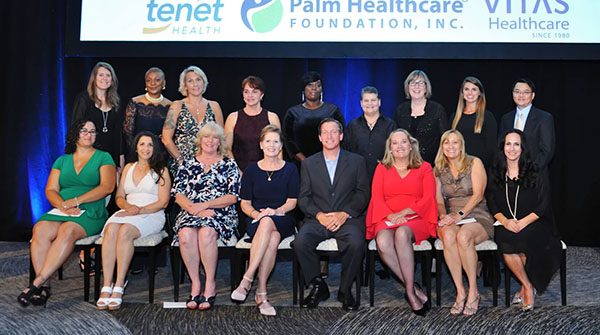 The Palm Healthcare Foundation hosted its fifth annual Heart of Gold Nursing Reception on Thursday, May 10 to honor the work of local nurses and recognize the county's "Nurses of the Year."
More than 300 guests attended the Heart of Gold Reception at the Kravis Center's Cohen Pavilion. Attendees enjoyed cocktails, food and entertainment, including a nurse-inspired photo booth. Sponsors included VITAS Healthcare, Tenet Health, Trustbridge, the E.M. Lynn Foundation, the Academy for Nursing and Health Occupations, the Breakers Palm Beach, Lynda Harris RN Home Care, ManorCare and Palm Beach Atlantic University.
Master of ceremonies meteorologist Michael Ehrenberg of WPEC CBS 12 helped introduce speakers Pat McNamara of the Palm Healthcare Foundation, Cheryl Wild of Good Samaritan Medical Center and representative of Tenet Health, and Gayle Stevens of VITAS Healthcare. The highlight of the evening was the introduction of Palm Beach County's 2018 Nurses of the Year. Each received a gift certificate for Sunday brunch for two at the Breakers Palm Beach.
The 2018 Palm Beach County "Thank A Nurse" Nurses of the Year included: Barb Bzura of Atlantis, Ascension Catholic Church, Catholic Charities; Katie Clark of West Palm Beach, Palm Beach Atlantic University; Peter Gonzales of West Palm Beach, JFK Medical Center; Karen Gulledge of Jupiter, Academy for Nursing and Health Occupations; Toni Harris of Lantana, Palms West Hospital; Patti Joyce of Wellington, Children's Medical Services; Mark Lefco of North Palm Beach, St. Mary's Medical Center; Marge McManus of Palm Beach Gardens, Good Samaritan Medical Center; Cheryl Morkan of Port St. Lucie, Palm Beach Gardens Medical Center; Inez Nascimento of Boca Raton, Delray Medical Center; Jessica Patino of Greenacres, VITAS Healthcare; Norma Reyes of West Palm Beach, VA Medical Center; Nuvia Rodriguez Machado of West Palm Beach, C.L. Brumback Primary Care Clinic; Julie Smith of Boynton Beach, West Boca Medical Center; Constance Upshaw of Boca Raton, Department of Health Palm Beach County; Dr. Karen Wisdom-Chambers of Lake Worth, Christine E. Lynn College of Nursing at FAU; and Latoya Wright of West Palm Beach, Trustbridge.
"At some point in our lives, we will all need the care of a nurse. The Palm Healthcare Foundation is delighted to shine a light on the exceptional stories of some of the most dedicated nurses in Palm Beach County," McNamara said.