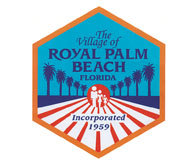 By Erin Davisson
The Royal Palm Beach Green Market & Bazaar is now open to the public every Wednesday from 4 to 7:30 p.m. at Veterans Park, south of Okeechobee Blvd. on Royal Palm Beach Blvd.
This new summertime version of the green market held Sundays during the fall and winter will continue rain or shine until October, with the exception of Wednesday, July 4.
Local vendors will be sponsoring businesses and promoting some new ones. "We have a variation of vendors from week to week," said Kathy Gilbert, who runs the green market through her company, POTTC Events.
Attendees can expect new vendors and also find familiar ones. It's always full of surprises, and no one knows what's beyond the entrance.
Veterans Park also has a playground and a fountain, so part of an adult shopping trip can be fun activities for the children and family. Well-behaved pets are also welcome.
The green market's various vendors will sell food or crafts in a family atmosphere. Produce vendors will sell fresh vegetables, fruits, herbs and home-grown potted plants and flowers.
Other displays sell delicious baked goods like pastries, breads and desserts. For those wanting something to complement these goodies, there are vendors who also sell jams and jellies, relish and sauces, even nuts and pickles. Included with these are spices, plus teas and coffee beans to take home.
Food is not the only thing on the list of items available in the bazaar-themed atmosphere. There are also some vendors that sell arts and crafts. The selections vary with each visit.
Premium vendors offer up fresh seafood, meat products, eggs, milk and yogurts. Included with that is packaged food that you can eat immediately, once bought.
There is live entertainment at the green market, with a different performer each week. Dave Bryan and George Manosis are some examples.
There is free parking around Veterans Park and shuttle service is available between the park and nearby Lindsay Ewing Park.
The green market first opened about five years ago on Sundays at Royal Palm Beach Commons Park. Two years after it opened, it was moved to Veterans Park.
Gilbert said that it is closer to some schools around that area and that Wednesdays are actually a good shopping day for students leaving school or for parents waiting for their kids. "Not everyone could join us on Sunday, so Wednesday is a perfect opportunity," she said.
The market is also a relaxing place for neighbors who are interested in getting together. "It's a really friendly atmosphere," Gilbert explained.
She added that the green market also supports the local community. There are always locals selling their products or promoting new businesses.
Because it benefits locals, it benefits the whole community, Gilbert said.
For more information, or to sign up either as a vendor, musician or sponsor, visit www.rpbgreenmarket.com. To contact the POTTC for additional information, call (561) 792-9260 or e-mail info@pottcevents.com.