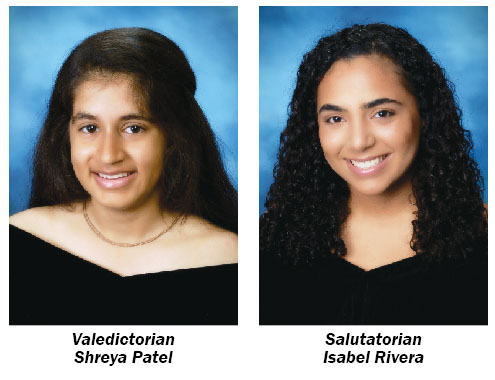 Seminole Ridge High School's Class of 2018 will graduate Monday, May 21 at 4 p.m. at the South Florida Fairgrounds. Valedictorian Shreya Patel and Salutatorian Isabel Rivera will lead the ceremony as some 580 classmates cross the stage.
During her high school career, Patel, who was born in Coral Springs, was ranked 16th as a freshman, first her sophomore year, second her junior year and now first in her class as a senior at Seminole Ridge.
Patel plans to attend Temple University in Philadelphia, Pa., where she will work toward earning her bachelor's degree in actuarial science.
At Seminole Ridge, Patel has been a member of the National Honor Society, the Spanish Honor Society and Mu Alpha Theta, the math honor society. As community service, Patel has provided math tutoring at her school, and she teaches the Gujarati language as a volunteer at her mandir, or temple, where she is also an active participant in youth activities.
Patel said she started at Seminole Ridge taking one math class in eighth grade and has been greatly influenced by teacher Christine Grosso, who provided valuable assistance in math during her years at the school.
"A lesson I learned during high school is that it's important to surround yourself with a good group of people and the right advisors," Patel said.
She also advised her fellow classmates, "Appreciate your parents or whoever raised you. My parents went above and beyond the call of duty for me."
Rivera was born in Ponce, Puerto Rico and moved to South Florida when she was almost six years old, about 12 years ago. Her class ranking during high school started at 13th as a freshman, then jumped to third as a sophomore, first as a junior and now she is graduating second in her class.
Rivera plans to become a Gator, attending the University of Florida, where she will be majoring in biomedical engineering.
Also a member of several honor societies, Rivera's extra-curricular activities included math tutoring and community service. She has been a participant in the Dance Marathon, raising funds for the University of Florida Shands Hospital in Gainesville.
Influences in Rivera's high school career have included her parents, Jose Rivera and Waleska Santiago, to whom she credits for her successes. "My father is a teacher, and other teachers who have influenced me include Ms. Elizabeth Seemann, who teaches AP U.S. History; Ms. Victoria Barrameda, who teaches AP Calculus; and Ms. Andrea Caceres, who teachers AP Macroeconomics," she said.
Rivera said a key lesson she has learned in her high school years is that, "No matter how hard it gets to balance everything, it is worth it."
She has also learned that it is important to accept everyone as they are.
"Do not be tied down by what everyone else thinks of you, don't limit yourself or let others limit you," Rivera said when asked for advice to her fellow students.
As they move on to their college years and each becomes eligible to vote, both students are optimistic about the future of the nation. On a 10-point scale of optimism, Rivera pegs the future at a solid nine, and Patel gave it an eight.
"I don't want to be too pessimistic, because things go up and down in cycles, but whether you think it's good or bad right now, this too shall pass," Patel said.