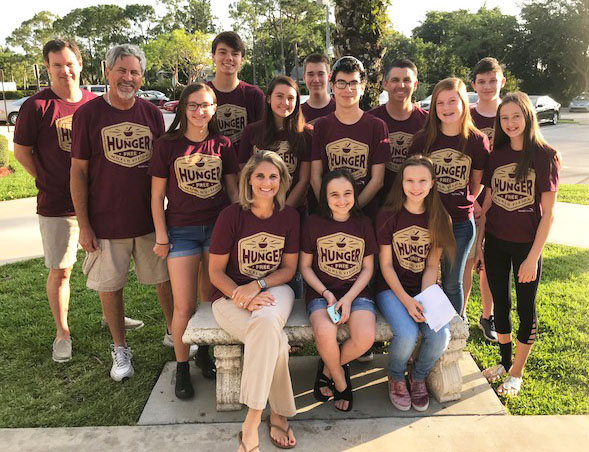 The St. Peter's United Methodist Church Youth Group performed service projects and raised money for those in need while they fasted during their 30-hour famine.
Ten youth and two adults began a 30-hour fast at midnight on April 28. In the 30 hours that they fasted, they completed many service projects for local organizations that help with hunger issues in Palm Beach County.
The youth made 50 bagged lunches (100 sandwiches) for the Lighthouse Café in Belle Glade. The lunches were delivered by volunteer Kirsten Daniels.
The teens assembled 70 hygiene bags for the Senator Philip D. Lewis Center, a homeless service provider in West Palm Beach. These bags will be distributed to residents who come to the center.
The youth group raised money to purchase the items for the lunches and hygiene bags by holding an Ash Wednesday Soup Supper at St. Peter's.
They also participated in an education program at the Lewis Center given by Uwe Jak, director of the donation center. He offered statistics about homelessness in Palm Beach County and informed them of ways that everyone can help. In July, the youth will be going back to the Lewis Center to provide a lunch for the residents.
The Lewis Center has assembled a team of community providers, each offering a distinct service to meet the needs of their clients. These partners are on site to assess clients and offer interim housing, medical care, life skills, job training and placement. Clients can stay up to 90 days.
The group then traveled to the CROS Ministries Warehouse and sorted two pallets of food, which helped get the items to the food pantries faster.
That night, the group participated in an economic project. They were given only $2 to buy food for the next day. They researched prices, made a list of what they wanted and went to WalMart to buy their items. When they broke their fast at 6 a.m. on April 29, the teens ate the food they had purchased. The youth began the day with communion and then enjoyed the meal together.
"The fasting helped them to understand the effects felt by those who go without food every day," St. Peter's Youth Director Samantha Scott said. "This awareness helps them to have more compassion for the homeless and hungry in our community and for those who attend school having little or no food."
The teens raised $500 for World Vision, which helps low income/poverty-stricken nations around the world.