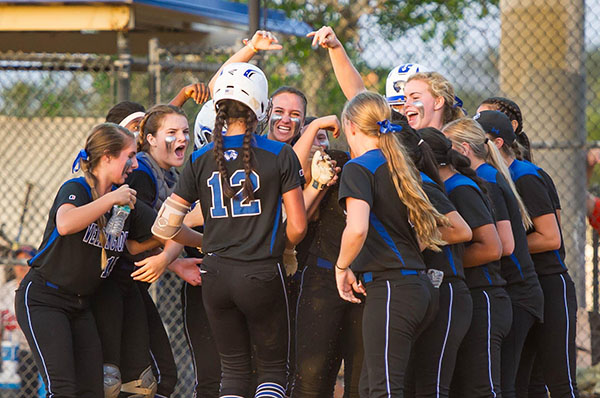 The Wellington High School girls softball team hosted the state's third-ranked Bartow High School on Wednesday, May 2 and handled the Yellowjackets 6-1 before a capacity crowd.
The Class 8A regional quarterfinal was the third-straight time that the two squads have met. Wellington (25-2) relied on senior pitcher Danni Farley, who played a complete game while notching 11 strikeouts and belting a three-run homer.
"She was 98 percent Danni Farley tonight," Wolverine head coach Mark Boretti said. "She struggled a little bit down the end, but was phenomenal, so she was on."
Wellington closed out the first inning taking a 1-0 lead going into the second when junior shortstop Sarah Longley took to the plate with two outs and cleared the left field fence for a home run. The University of Florida commit crossed the plate into the arms of her team.
"To get us on the board, it was huge," Boretti said. "We have not had some clutch hitting, but we had clutch hitting. A squeeze play by Alexis Mobilia gets Katie Schmidt in, then the three-run homer — that's huge."
The Wolverine offense continued to dominate through the second and third innings. Wellington delivered a staggering blow to the Yellowjackets in the bottom of the third, adding four more runs to the board. Farley's three-run homer kick-started the Wolverine offense, and Wellington controlled the game 5-0 entering the fourth inning.
Wellington extended the lead in the sixth when Raegan Conley hit an RBI single to lift the Wolverines to 6-0. Bartow closed the margin, earning a run in the final inning, but ran out of steam against the stubborn Wolverine defense. Farley improved to 14-0 from the mound for the Wolverines with the victory and kept Wellington's post-season run alive.
The Wolverines traveled Tuesday, May 8 to Lakeland to play George Jenkins High School, which defeated Royal Palm Beach last week 13-0. The results of that regional semifinal game were not available by press time. The two met last year deep in the postseason with Wellington coming away with a 1-0 win.