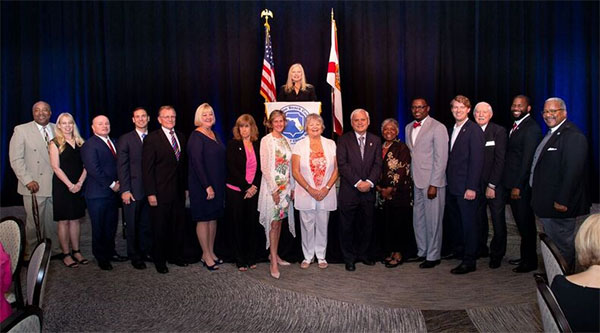 The Palm Beach County League of Cities held its annual installation banquet on Wednesday, May 23 at the Kravis Center for the Performing Arts. Wellington Mayor Anne Gerwig was installed as the league's new president.
The keynote speaker was Robbin Lee, CEO of Wellington Regional Medical Center, and the honor of installing the 2018-19 president and board of directors went to former Wellington Councilman Dr. Carmine Priore.
In attendance were more than 300 elected municipal and county officials, state legislators and business partners.
The Palm Beach County League of Cities also presented its annual Legislative and Intergovernmental Service Awards. The School Board Member Award went to School Board Member Chuck Shaw; the Home Rule Award went to Lake Worth Vice Mayor Andy Amoroso; the William "Bill" Moss Memorial Award went to South Palm Beach Vice Mayor Robert Gottlieb; and the Career Excellence Award went to Kimberly Ardila-Morgan, former director of the Center of Applied Ethics at Palm Beach State College.
The slate of officers installed include President Anne Gerwig of Wellington, First Vice President Jeff Hmara of Royal Palm Beach, Second Vice President Kimberly Glas-Castro of Lake Park, Secretary/Treasurer Mo Thornton of South Palm Beach and Immediate Past President Keith A. James of West Palm Beach.
Other board members include Gail Coniglio of Palm Beach, Patti Waller of Palm Springs, Michael C. Brown of Hypoluxo, Shirley Johnson of Delray Beach, Leondrae Camel of South Bay, Steven Grant of Boynton Beach, Peter Noble of Greenacres, Andy Amoroso of Lake Worth, Ilan Kaufer of Jupiter, Maria Marino of Palm Beach Gardens, Terence Davis of Riviera Beach, Lawrence Gordon of Haverhill and Deborah Manzo of Lantana.