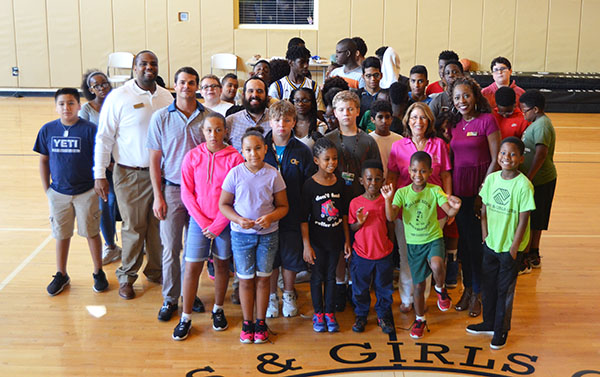 By Eve Rosen
On Thursday, June 7, representatives of the Christopher Aguirre Memorial Foundation met the 10 campers that they would be sponsoring for the entire summer at the Neil S. Hirsch Family Boys & Girls Club in Wellington.
By providing these 10 children with sponsorships to the Boys & Girls Club for the summer, the foundation allowed them to attend camp and have a fun summer, instead of possibly being stuck at home alone while their parents are at work.
RoseAnn LaBella Voils and Anthony Aguirre, directors of the Christopher Aguirre Memorial Foundation, were on hand for the event.
The Christopher Aguirre Memorial Foundation was created to honor the memory of Voils' son and Aguirre's brother, Christopher, who died in 2006 after being struck by a drunk driver. The foundation's mission is to give back to the community through educational and athletic programs, and to provide opportunities to children and young adults.
"We have sponsored summer camp for the last four years, and this year we have 10 children for the entire summer," Voils said. "They would never have been able to come to camp if they did not have the sponsorship."
Christopher Aguirre had a passion for helping others, and his mother and brother are happy to share his compassion with the children of the Boys & Girls Club.
For more information, visit www.christophermemorial.org.