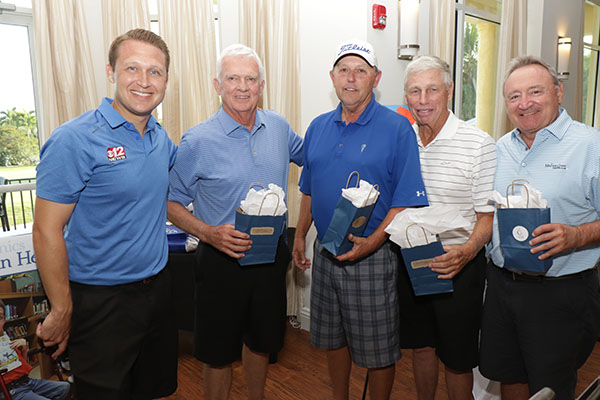 Clinics Can Help (CCH), the West Palm Beach-based nonprofit dedicated to help children and adults in need of medical equipment and supplies, raised more than $42,000 for the nonprofit at the recent fifth annual Clinics Can Help Golf Classic at the Madison Green Country Club in Royal Palm Beach.
Proceeds from the golf classic support CCH's Kinder Project, the organization's program supporting families of children with special needs. Many of the children in CCH's Kinder Project are affected by serious medical conditions and would not be able to afford the supplies and equipment that enable them to lead more independent lives. "We are incredibly thankful to the local community, our committee members and our sponsors for helping us continue to serve more people," said Owen O'Neill, executive director of Clinics Can Help. "This year's event was a great success, and we look forward to welcoming everyone back again next year."
In the last year alone, Clinics Can Help granted more than $1 million dollars in reusable medical equipment and supplies for those most in need. With many donations of materials and funds, CCH was able to impact thousands of lives of area residents.
The organization is especially grateful to those who made it all possible, including Honorary Chair Dana Quigley and his wife Angie, Honorary Media Chair Matt Lincoln of CBS 12, and committee members Sally Chester, Gil Martinez, Andrea McMillan, Myk Nelson, Owen O'Neill, Alan Salomon and Pam Swensen. Sponsors included Drive DeVilbiss, Gast Construction, Jack Lansing with UBS Wealth Management, CEMEX, and Searcy, Denney, Scarola, Barnhart & Shipley.
Event winners included Jim Widrick, John Wilson, Mike Reynolds, Don Kealy in first place; Karen Hale, Van Lefferdink, Greg Alksnis and Chuck Zuback in second place; and Gil Martinez, Carlos Portilla, Javier Rezakhani and Dennis Martinez in third place. The longest drive winner was Ryan Kilday.
To learn more about Clinics Can Help, call (561) 640-2995 or visit www.clinicscanhelp.org.