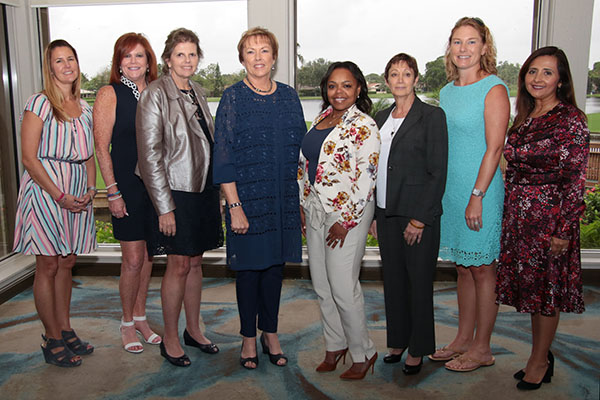 The Executive Women of the Palm Beaches Foundation held its annual meeting and installation luncheon at the Eastpointe Country Club in Palm Beach Gardens on May 22, sponsored by new member Sailynn Doyle, a Rodan + Fields consultant.
After lunch, EWPBF President Denise W. Valz conducted the annual meeting, recognizing past presidents and new members. Valz also presented Trixy Walker with the "Member of the Year" award for her tireless commitment to EWPBF and serving as co-chair of the 35th annual Women In Leadership Awards Luncheon. Sailynn Doyle was presented the "New Member of the Year" award.
"The meeting culminates the 36th year of the organization and continues to reflect the positive supporting network of executive women who strive to empower other women in the community to succeed and lead," Valz said. "Being mentors to entrepreneurs and professional women provides the opportunity to provide a positive impact through the years of experiences and diverse industries represented in our members. In addition, this year we are able to award more than $48,000 in educational scholarships to 20 young women and more than $24,000 in grants to organizations serving girls and women in need."
The 2018-19 officers include: Vice President of Resources Development/President-Elect Trixy Walker, Vice President of Programs and Education Martha Collier, Vice President of Community Outreach Jessica Cecere, Treasurer Trudy Crowetz, Treasurer-Elect Dana Perez and Of Counsel Nellie King. Directors include Sailynn Doyle, Barbara Scarlata, Amy Morse and Cecilia Hudnet.
Returning to complete their terms as elected are President Denise W. Valz, Secretary Julie Swindler and Past President Lori Fischer. Directors include Amy Brand, Sophia Eccleston, Kimberly Lea, Laurie Pfeil and Jennifer Rodriquez.