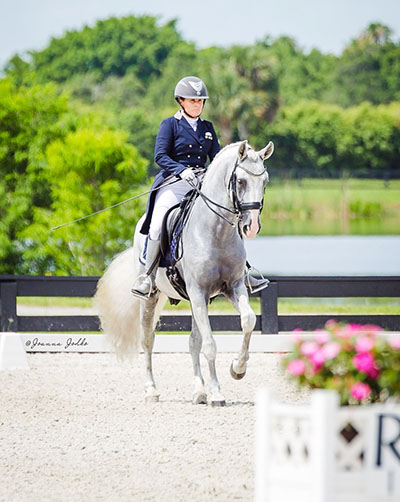 With golden rays of sunshine beaming down, the Gold Coast Dressage Association's Summer Solstice Show was destined for success.
The GCDA has been running dressage shows in Wellington for more than 35 years, and the popular summer series hosted together with Wellington Classic Dressage has shows running every month during the summer months for the sport's year-round residents.
According to longtime dressage supporter Michele Hundt, owner of the Show Chic dressage boutique, more than 55 dressage trainers live in South Florida year-round. Those trainers and their students support the GCDA summer events and take advantage of competing during the less-hectic summer season. Many of those riders turned out for the Summer Solstice Show held June 16-17 at the Palm Beach Equine Sports Complex.
The show run by GCDA President Noreen O'Sullivan had more than 80 entries and filled two rings over the two days of competition, which where judged by Sue Mandas (USDF "S"), Agnieszka Majewski (FEI 3*) and William Tubman (FEI 4*). Riders ranged in all levels, ages and goals, with riders competing in the last qualifier for the Caribbean Games, and riders competing to qualify for the Pony Club Nationals.
The high score of the show was awarded to King Santacruz riding Kristy Lund's Sake Shooter for an eye-popping 72.727 percent at Training Level Test 3.
"We have a great team of show staff and volunteers who we couldn't do this without," O'Sullivan said. "It's great to have these types of shows and qualifiers here because we listen to what the riders need and make sure we provide the opportunities they need to qualify and meet their goals".
For complete Summer Solstice Show results, visit www.gcdafl.org.
Show participant and trainer Heather Bender brought several students to show and also competed her own horse during the busy weekend.
"It's a great show. I enjoyed the facility, as always. The people who work here and run the show do such a good job scheduling, and the way they set it up is very smooth," Bender said.
Bender had students show from Third Level to the FEI, and showed in the Grand Prix, winning the class with her own horse, Zairo Interagro.
Up next for the GCDA is a USDF educational seminar on July 18 held at the Palm Beach Equine Clinic. The topic of the seminar is "Making Success Simple" and will begin at 6:30 p.m. The event is free to Gold Coast members, and non-members can pay a nominal fee to attend.
The GCDA enjoys support from its many members and sponsors, including Diamante Farms, the Palm Beach Equine Clinic and Sports Complex, Custom Saddlery, MDC Stirrups, TheraPlate, Florida Community Bank, Finish Line Products, Noreen O'Sullivan's Prudential Advisors, John McGinty Financial Partners, Mary Phelps of Markel Insurance, JRPR Public Relations Equine News Room and Triple Crown Nutrition.
The Gold Coast Dressage Association is committed to education and promoting good sportsmanship, along with high ethical and moral standards in horsemanship and the equestrian sports. To find out more, or become a member, visit www.gcdafl.org.