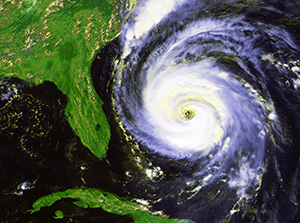 The National Oceanic & Atmospheric Administration's Climate Prediction Center forecasts that the 2018 Atlantic hurricane season has a 75 percent chance of normal or above-normal activity.
Based upon 30-year averages of current conditions, NOAA figures indicate that there is a 35 percent chance of above normal activity and a 40 percent chance of near normal activity. That translates to 16 named storms in the Atlantic.
An average of 12 named storms develop in a typical year. Storms which have winds of 39 miles per hour or above become named stormed.
Residents of the western communities avoid the storm surge, rip currents and coastal damage associated with shoreline areas, but the damage from high winds, tornadoes, heavy rainfall and inland flooding can be devastating.
Experts advise that the best way to keep safe is to be prepared, and to be prepared early. They recommend that residents install shutters and bring in outdoor furniture, have vehicles fueled and cell phones charged, with water, medication, cash and food supplies to last for days after the storm hits, and to have a device to monitor alerts, watches and warnings from authorities.
Village administrators in the western communities say they are ready and remind residents to prepare for the worst and hope for the best — and to do it now, before a storm is imminent.
Last month, communities across the state participated in training, with a preparation mock storm drill to test each community's readiness for the hurricane season.
"It would be pretty poor planning to wait until hurricane season to hold the drill," said Wellington Village Manager Paul Schofield, who explained that the basic emergency preparations were tested weeks ago to ensure that Wellington is ready.
He cautioned that residents who haven't done so already should prepare now.
"Have three days of food, water, batteries and supplies, and a portable radio for alerts and news," he said. "Have your car serviced and ready and filled with gas, because [gas] may run out after the storm."
Anyone who plans to evacuate should leave early, he urged.
"If you are going to evacuate, go four or five days before landfall, so you don't risk getting on the highway and getting stuck," said Schofield, who advised residents to remember the damage and dangers of Hurricane Andrew and to know where they are going.
Hurricane supplies themselves also pose dangers.
"If you use a generator, make sure it is serviced and safe, and remember that running a generator in a garage is very dangerous," Schofield said. "Also, have your trees trimmed now before a storm is in the forecast."
Schofield continued that preparation is basic common sense and also cautioned residents not to think that Hurricane Irma, which only gave the western communities a glancing blow, is the worst a major storm can do.
"Don't think we have been through a [major] hurricane with Irma," he said. "Don't be lulled into a sense of complacency."
Royal Palm Beach Village Manager Ray Liggins reiterated this point. "Events of the prior two years gave us the opportunity to activate people and programs, but they were not major wind and rain events," he said, adding that Royal Palm Beach Village Engineer Chris Marsh has been working on the preparations and has the situation well planned.
Marsh agreed that the previous storms were like training exercises and helped in preparations, which included participation in the statewide training event, to highlight any points for improvement.
Marsh said that the program used by the Village of Royal Palm Beach for damage assessment, repair and reimbursement is now used by Palm Beach County.
Plans have been in the works since last year.
"We reached out early to homeowners' associations to get approval to enter and remove debris, so FEMA would provide reimbursement funds," said Marsh, who explained the village has an ongoing stormwater drainage program to physically inspect the outfall of water, to prevent debris and sediment filling up the drainage and impeding water flow.
Marsh also encouraged residents to prepare their homes early and to get supplies, including food and water to last for a week after a storm event, so they will be ready for a hurricane.
As for the Village of Royal Palm Beach, "We really are prepared," Liggins said. "We have a plan in place, and we are ready."
The 2018 Atlantic hurricane season lasts until Nov. 30. For more information about planning for a storm, visit the National Hurricane Center web site at www.nhc.noaa.gov/prepare and National Oceanic & Atmospheric Administration web site at www.noaa.gov.