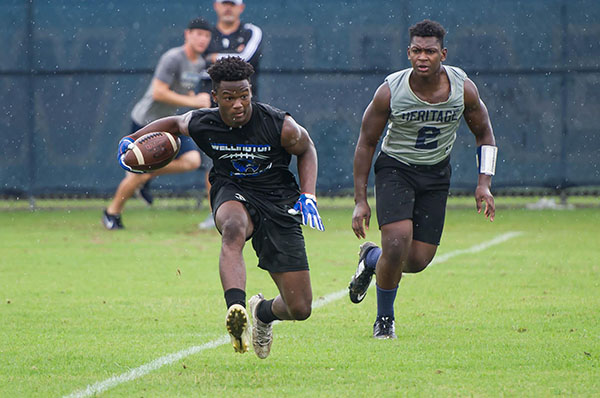 On Saturday, June 9, the Keiser University football program hosted its second annual 7-on-7 football tournament. A 7-on-7 game is a great way for skill position players to work on their craft, to improve on timing, catching and throwing. Now that the school year has ended, local high school teams will compete in 7-on-7 tournaments throughout the summer to prepare them for the fall season.
Seahawks head coach Doug Socha believes that the event is a great way for players to hone their skills with the potential of being discovered. "We have 16 teams, and it's a great tool for us and the football staff to be around the high school coaches and evaluate these kids while letting them compete," he explained. "For us, it's a great recruiting tool."
The Keiser program could not be happier with the turnout, despite the damp conditions. A lightning delay slowed the tournament's start time, but it eventually got underway. "It's our second year in a row, and we couldn't be happier having 16 teams out here," Socha said.
It's a competitive area for football, especially for 7-on-7 tournaments during the summer. The one-day event provided pool play, then teams were seeded for tournament play to compete for the tournament title. Teams from the tri-county area occupied the four fields used for the games, and some schools brought enough players to field two teams.
Wellington High School was one of the local teams from the western communities that participated in the tournament. "We get guys on the field and see who can play for us in the fall," Wolverine head coach Tom Abel said. "Win or lose, we're trying to get better."
Abel has three quarterbacks on his depth chart, and each competed in a game during pool play. "Each one has their own game," he said. "They get to fight through their ups and downs, picks, missed throws, and the best one will get to carry us through the tournament."
Many of the teams use these tournaments to groom younger players and generate experience, so when the fall season arrives, the players are better prepared. The tournament also promotes a competitive spirit in games and among players battling for a position within the team.