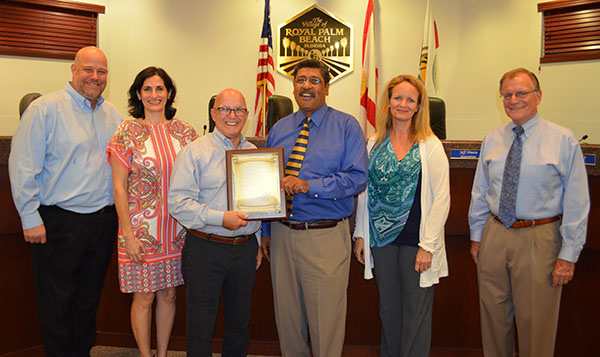 Mayor Fred Pinto honored the Royal Palm Beach Parks & Recreation Department on Thursday, June 21, presenting Parks & Recreation Director Lou Recchio with a proclamation honoring July as Parks & Recreation Month in the community.
"Parks and recreation programs enhance our quality of life by contributing to a healthy lifestyle, community building, economic development and environmental sustainability," Pinto said.
On behalf of the village, Pinto honored Recchio and his staff for the more than 200 recreational, social, cultural and community events hosted by the Parks & Recreation Department, and all of the benefits residents and visitors can enjoy due to the department's work.
"I'm always proud to talk about how we have more parks per capita in the Village of Royal Palm Beach than any other community in Palm Beach County," Pinto said.