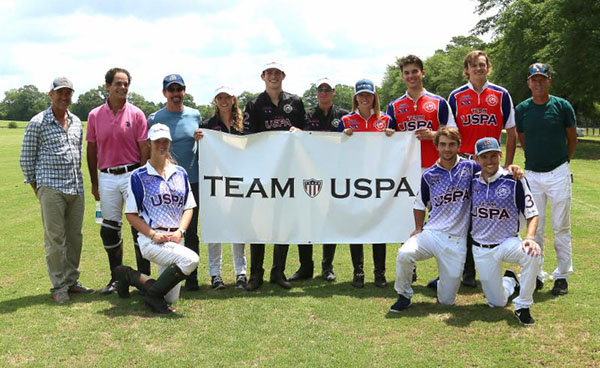 Growing up together, they have played with and against each other in youth and adult tournaments on the polo fields of Wellington. Now they will represent the United States as the newest members of Team USPA.
Grant Ganzi, Tony Calle and Justin Daniels, representing the Grand Champions Polo Club, and Lucas Arellano of the Everglades Polo Club were recently named to the team after a three-day tryout in Aiken, S.C. Team USPA's mission is to enhance and grow the sport of polo in the U.S. by identifying young, talented American players and providing mentored training and playing opportunities.
Ganzi, 20, a third-generation polo player, will be a junior this fall at Lynn University. He has represented the U.S. in two victorious International Cup events at Grand Champions and Royal Polo Match in Toronto.
"I was happy to make the team, and it was fun to make the team with my friends," Ganzi said. "It's something I have always aspired to do ever since I was young, and that's to be able to represent the U.S. To have four players from Wellington speaks volumes about Wellington polo and what a great place it is to play year-round."
Ganzi has already played with and against some of the world's greatest players, which has given him valuable experience at a young age. This past season, his U.S. Polo Assn. team made it to the U.S. Open semifinals before being eliminated.
"That was a great milestone and stepping stone in my career," Ganzi said. "Making Team USPA is right up there with the U.S. Open. I am ready for this next challenge."
Ganzi and the other three local players got the opportunity to work with polo greats Adam Snow and Owen Rinehart during the tryouts.
Calle, 23, recently graduated from Lynn University and is beginning a career in business with two of his former college roommates. The trio have started a high-end furniture business, BlackTree.
"I am just starting my business career, but I wish to continue playing polo," said Calle, who started competing seriously at Grand Champions five years ago and is currently rated at 3 goals. "Team USPA will help me facilitate the process to achieve high-goal status."
Calle said he was excited for the opportunity to try out and enjoyed seeing so many familiar faces.
"It is a small world; you're always playing polo with friends," Calle said. "Having them there made the whole experience even greater. More than anything, I wanted to give my best and tried to do everything they asked me 100 percent, which I think I accomplished."
Daniels, 19, a St. Andrew's School alum, attends the Harriet L. Wilkes Honors College of Florida Atlantic University in Jupiter. His father, Bob Daniels, was his mentor, patron of Pony Express and an avid polo player. "I am very happy about making Team USPA," Daniels said. "To make Team USPA means to me that I am supported and that the USPA believes in young players like me and to make our dream of being high-rated American players come true."
Daniels said his teammates were all supportive of him during the tryouts. "To me, having my great friends around helped me feel part of a friendly group that are looking to make each other play better instead of just beating each other," he said.
Arellano, 18, the son of one of America's top players, Julio Arellano, is finishing his last year of home school and hopes to attend the University of South Carolina at Aiken in the fall.
"I think I was a combination excited and nervous at the tryout," Arellano said. "They made me feel very comfortable. It was awesome to work with Adam Snow and Owen Rinehart one-on-one. It definitely means a lot to represent the U.S. It was nice to see players I knew and grew up with. Having familiar faces around made it a really fun experience."
The foursome was among nine players selected after the final stage of selections on May 18-20. They are joined by Molly Agee, Lauren Biddle, Mia Bray, Jake Klentner and Sloan Stefanakis.
"This was an assembly of experienced participants who have played at all levels of polo ranging from intercollegiate to high goal, and each player had different needs and interests," USPA CEO Bob Puetz said. "This gathering, and the education and mentoring it provided, gave the USPA an opportunity to determine how to best help each individual with their own personal goals both on and off the field. I look forward to watching these young Americans grow and develop within the sport."