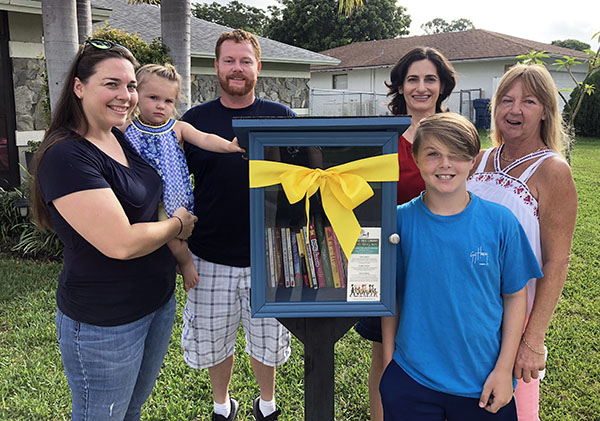 By Erin Davisson
Royal Palm Beach nurse Erin Franklin opened the door to a Little Free Library in front of her Sunflower Circle home last week so that community children who are not able to reach the local libraries or can't afford books can get a book or two to enjoy.
A small ribbon-cutting ceremony on Saturday, June 2 featured snacks and drinks in front of Franklin's house to mark the special occasion.
"There are not that many kids who can afford books. I hope this will be a step forward to helping our community," said Franklin, who works in labor and delivery at Wellington Regional Medical Center and has three young children of her own who were a part of the inspiration for what is the very first Little Free Library in Royal Palm Beach.
Along with her children, inspiration for the project came from Ashley Frost, a close family friend who has set up a Little Free Library where she lives in Lake Worth.
Franklin hopes that her location not only helps local children but inspires other neighbors to set up many other Little Free Library outlets all around her community and across Palm Beach County.
The Little Free Library is a nonprofit organization, so organized in 2011 after the first location opened in 2009, that helps children receive books to read. Books are exchanged, and as a result, kids or adults are able to keep and read different types of books that they might not have been able to enjoy before.
One of the reasons that the organization does this is because when children grow up without books in their lives, they wind up an average of three years behind academically. Another reason is because 61 percent of homes with low incomes cannot afford getting their children the books they want and need.
However, with the Little Free Library program, kids are able to access a range of books without the distance of a library or the purchase from a bookstore. The process is called "Take a Book, Leave a Book."
The organization is not just in the United States; the concept operates in a total of 85 countries providing the books necessary for children. There are more than 70,000 mini libraries that are part of the Little Free Library, and it's still growing, with millions of books being exchanged.
The Little Free Library first began in Hudson, Wisc. A local man named Todd Bol made a little schoolhouse model to be the first Little Free Library and filled it with books. He was inspired by his mother, who had been a school teacher and loved reading. His neighbors and friends saw this miniature schoolhouse and loved it. At their request, he built more and gave them their own mini libraries.
A friend of Bol's named Rick Brooks suggested that they expand the project for the greater good. Only one year after opening the first location, more of the Little Free Libraries followed.
In 2011, the organization caught the attention of the national media, which added an additional boost for the program.
Franklin's new Little Free Library is located at 167 Sunflower Circle in Royal Palm Beach.
For information about how to become a part of the program, and have your own Little Free Library in your front yard to serve your neighborhood, visit www.littlefreelibrary.org.