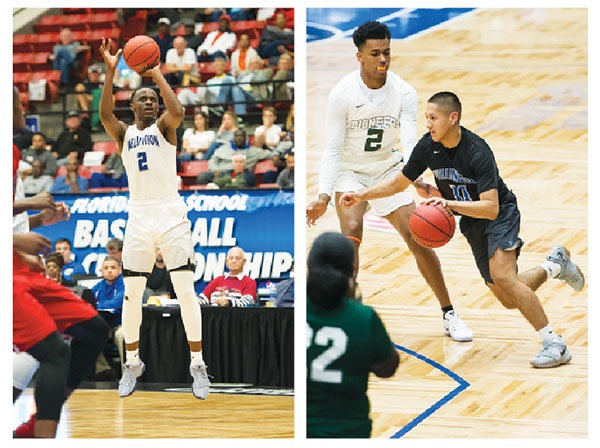 Recent Wellington High School graduates Nicholas Toledo and Jonathan Philistin have committed to play basketball for Webber International University in Central Florida. The Warriors are a NAIA Division 1 school that competes in the Sun Conference. The duo will make the transition from Wolverines to Warriors, donning the green and gold next season.
The tandem accolades run deep over their career with Wellington High School. Toledo and Philistin helped lead the Wolverines in the team's fifth-straight district championship in 2018 with a 57-39 win over John I. Leonard High School, as well as the team's third regional title with a win over Broward's Deerfield Beach High School.
Along the way, the Wolverines notched an undefeated 25-0 regular season. "It was an amazing feeling being undefeated," Toledo said. "I think a lot of people were surprised because they all expected less of us because of the loss of the seniors we had, so we had to prove them wrong."
The Wolverines finished with a 31-1 record and received the Class 9A runner-up title after losing a close contest to Orlando's Oak Ridge High School in the state title match.
Toledo reflected back on last year's season.
"That team was really good, but to be honest, I knew we had a lot of good players this year, and a lot of drive to go back because of last year's loss," he explained. "So, I knew we were going back to states."
Wellington suffered a tough state semifinal loss in 2017 and vowed to return.
Philistin was uncertain early on, but he knew the potential was there.
"I didn't expect to go that far as a team," he explained. "My thoughts were that we were a small team compared to last year, and we were going to have a hard time, but we had no problem."
Both athletes, as expected, played in two local all-star games, made all-conference and team MVP. Toledo averaged 10 points per game, while Philistin averaged 13.5 points per game, seven rebounds per game and a boasted a 65 percent free-throw average.
Both trained in the off season, aware they need to fill big shoes after 2017's graduation losses.
"I knew I was going to have to step up my game, so that's what I did," Toledo said. "Of course, they underestimated me because of my height, but the motto that I live by to this day is, 'heart over height.'"
Philistin was recruited first, according to Toledo, but Webber recruiters were persuaded by Toledo's performance at the state tournament. Philistin explained that the two committing to Webber just kind of unfolded. "The signing wasn't planned, it just happened," he said. "It just worked out it was the best choice for both of us."
The duo described that this year's team chemistry was very strong because they have all known each other for many years. Philistin and Toledo plan to take that energy to the Warrior camp. They attribute their preparedness ability to the Wellington coaching staff. "Wellington's coaching staff is one of the best I've ever played for," Toledo said. "They were great at preparing us for games with practice and film."
Throughout the season, coach Matt Colin praised the two athletes in post-game interviews and attributed much of the team's success to them. Both are likely to make an impact immediately upon their arrival at Webber.
They credit support from their family being an important factor, and they stressed how that continued support will help them in college.
"They've been there through the good and bad times," Philistin said. "They will be at most of my games while at Webber."
Toledo explained that one of the main reasons for choosing the school, aside from liking the campus and staff at Webber, was that he would be closer to his family so they could travel up and see the games.
"My family is very supportive of me, and I truly love them for it," he said. "They get to see me play at the next level but also continue to support me through my college days."
Once they gear up as Warriors, Toledo plans to major in business, and Philistin plans to study accounting.
The two athletes are sure to make their mark at Webber, bringing that same chemistry from Wellington to the Warrior court next season. To follow Toledo, Philistin and the Webber Warriors basketball team, visit www.webberathletics.com.