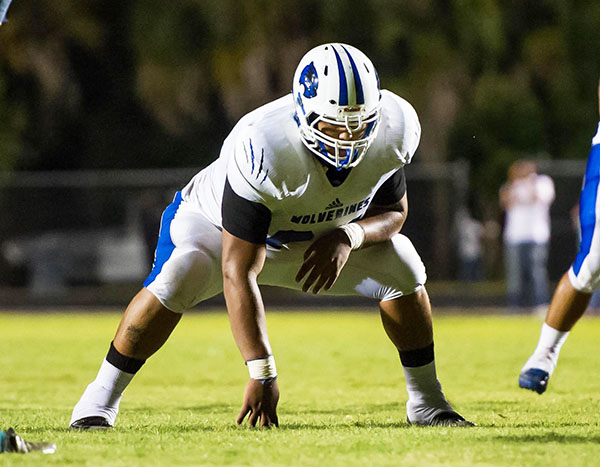 Recent Wellington High School graduate and football standout Adrian Tiburcio has signed to play for Keiser University. The NAIA division Seahawks will compete in the Mid-South Conference in the fall.
Tiburcio will join the Keiser program for its inaugural season. Wellington has three other players from the Class of 2017 on the squad: Sage Chen-Young, Dion Cooper and Camron Allen.
Tiburcio has reunited with his teammates this summer for training to prepare for the team's first real season. South Florida is a hotbed for football talent, and 90 percent of Keiser's roster is made up of Palm Beach County athletes — many from the western communities.
Tiburcio weathered early culture shock transferring from Brooklyn, N.Y., to South Florida his junior year. One would think adjusting to the humid South Florida climate would be the biggest challenge, but Tiburcio was quick to explain leaving his friends and team was no easy task.
"It was hard," he explained. "Those people I was leaving were basically people I grew up with."
Getting around in South Florida was also not easy compared to New York, according to the 6-foot-5, 315-pound Tiburcio.
"In New York, you have buses, the subway, taxi cabs, everything is within walking distance," he said. "Here, you need a car. Everything is so spread out. Up there, a car is not really a necessity."
The last two years at Wellington, Tiburcio was the workhorse on the Wolverine offense. The tackle paved the way for running backs and protected the quarterback for Wellington's spread-style of offense. He was a big contributor in the offensive unit's success.
Tiburcio's accolades consist of first team all-conference, all-county and an appearance in the annual Palm Beach County All-Star game. His performances on the field drew the attention of many colleges, including the University of Miami, Pittsburgh, Northwestern, Stetson, Florida International University, Florida Atlantic University and others, but it was Keiser that captured his interest. "Most of the schools did not offer me a full scholarship," he explained. "Keiser recruited me hard and offered me a lot."
Keiser recruiter Cody Edwards worked on getting Tiburcio to commit to the new Seahawk program. "He's an incredible piece of the puzzle getting in the weight room in early June," Edwards said. "Adrian was one of the first names we've known for a long time. He checks all the boxes on size, height and weight, and we're fired up to get him."
Tiburcio, along with his mammoth presence, wears a size 16 shoe. "When I blew out my cleats last season, I had to tape them, until I could find another pair that fit," he explained.
Wellington head coach Tom Abel praised Tiburcio during his tenure as a Wolverine. "He was like an eclipse when he walked out to training," Abel said. "He's a big man with a big heart, and we were grateful to have him on our team. Keiser has a gem."
Tiburcio's main focus since his junior year was to obtain a full football scholarship to provide him an education while majoring in criminal justice. "That has been my main goal since I came to Florida," he said.
Training has already started for the summer for the Seahawks, and Tiburcio has been attending camp for the last two weeks and compared it to high school practices. "The workouts are the same, but the intensity is times ten," he explained. "I'm down to 307 pounds."
Remaining local was a win-win for Tiburcio. It is assisting him financially, and he is familiar with the area. It is important for Tiburcio for his family to be able to see him play at home games. Keiser has been developing a facility for the football program, which will likely be completed before the season's end.
Edwards explained that the team's field house is nearly complete. "They're installing the drywall currently, and it should be completed soon," he said.
The Seahawks will play their home games on grass for the first season but will eventually make the transition to a turf field.
Tiburcio welcomes the opportunity to be a part of history in the making. He will walk onto the field for the first time in the fall for Keiser's inaugural season.
"I'm really excited, but I'm nervous, too," Tiburcio said. "I just have to maintain my poker face."
To follow Tiburcio and the Keiser University Seahawks in the fall, visit www.kuseahawks.com.