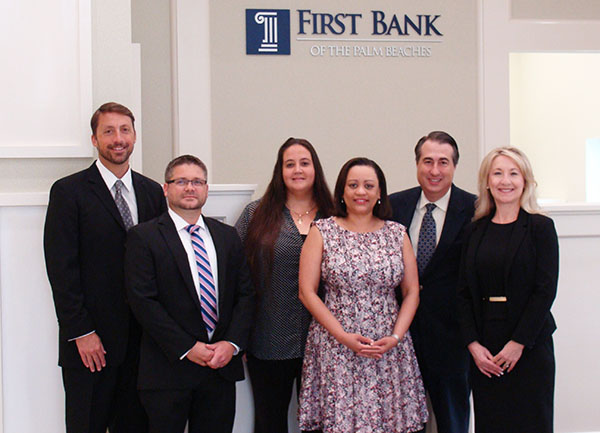 First Bank of the Palm Beaches has opened its second full-service banking center, and its first in Wellington, at 12796 W. Forest Hill Blvd. The Wellington Plaza location, managed by longtime Wellington resident James Seder, opened for business on July 9.
As vice president/market executive, Seder manages a team of relationship managers, drives business development strategies and ensures an exceptional banking experience.
The Wellington team includes assistant branch manager Leidy Cardona, senior loan officer Colin Christy, commercial loan officer Beau Marburger, and customer service representatives Christa Pillitteri and Dilia Boigris.
"When we decided to open in Wellington, James was our first choice to lead the team," said Jay Shearouse, chairman and CEO of First Bank of the Palm Beaches. "His 25-year history of working and being involved in the community are the perfect complement to our goal of returning a community banking atmosphere back to Wellington."
"Our focus is taking care of our clients and doing what is right," Seder said. "Wellington is a place where you know your clients, they know you, and you become part of our family. I want the generations of families in Wellington to know they can depend on First Bank."
The Wellington banking center lobby is open Monday through Thursday from 9 a.m. to 5 p.m. and Friday from 9 a.m. to 5:30 p.m. The drive-through lanes are open Monday through Thursday from 8:30 a.m. to 5 p.m. and Friday from 8:30 a.m. to 5:30 p.m. To contact the Wellington Banking Center, call (561) 335-5200.
For more information, visit www.firstbankpb.bank.