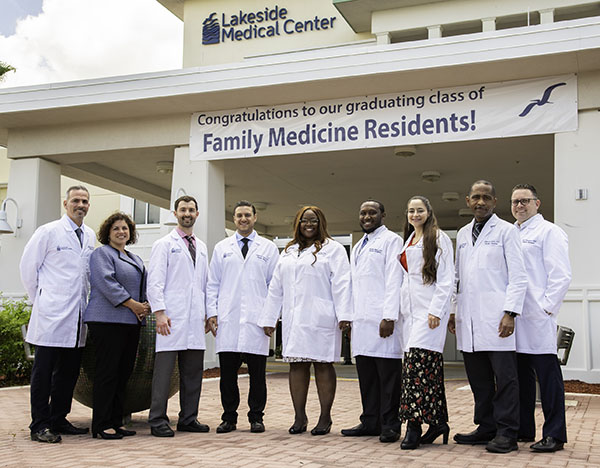 At a time when the nation is experiencing a growing physician shortage, Lakeside Medical Center, Palm Beach County's only rural teaching hospital, celebrated the graduation of five residents from its Family Medicine Residency Program.
Hospital Administrator Stephanie Dardanello welcomed the more than 130 attendees June 22 at the Wanderers Club in Wellington. This is the sixth class of residents to graduate from the program, which was established at the acute-care facility in Belle Glade in 2011 and is one of the few of its kind to focus on the healthcare needs of rural, underserved areas.
The five graduates — Dr. Bralin Bean, Dr. Roberteen H. McCray, Dr. Stephen Perez, Dr. Tyler Provost and Dr. Elena Herschdorfer-Rodriguez — completed a rigorous three-year curriculum that included rotations in emergency medicine, women's healthcare, pediatrics, psychiatry, general surgery, internal medicine, community and sports medicine, cardiology, dermatology, women's health, radiology, orthopedics, ENT, urology, ophthalmology and critical care. Lakeside Medical Center, which is accredited by the Joint Commission and owned and operated by the Health Care District of Palm Beach County, is the program's primary clinical training site.
"It is my hope you will always practice the art of compassion as physicians and that you be the very best you can be despite any challenges you may face along the way," said Dr. Nikerson Geneve, director of Lakeside Medical Center's Family Medicine Residency Program.
The graduation comes at a time when physicians are in great demand. Just this past April, the Association of American Medical Colleges published a report that shows by 2030, the U.S. could see a shortage of 120,000 physicians.
Dr. Daniel B. Kairys, chief of surgery at Lakeside Medical Center, delivered the keynote speech about preceptors like himself and their impact on the residents.
"I hope what you have learned from the physicians who have trained you will stay with you, carry with you and be the voice in your head as you're taking care of patients in the future," Kairys said.
Following the ceremony, the five graduates took part in coating the program's five incoming residents.
For more information, visit www.lakesidemedical.org or call (561) 996-6571.