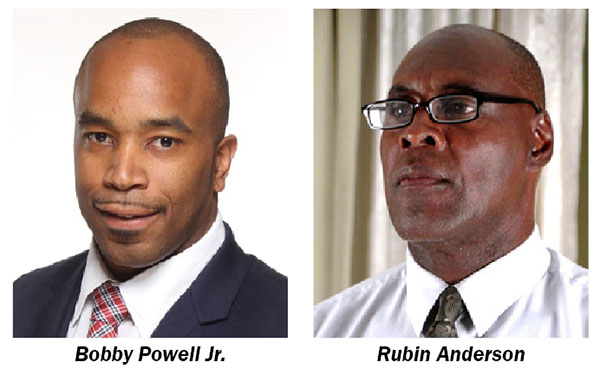 Incumbent State Sen. Bobby Powell Jr. (D-District 30) is being challenged in his bid for re-election by West Palm Beach Pastor Rubin Anderson, a political newcomer. Since both are Democrats, the race will effectively be decided during the Aug. 28 primary election.
District 30 includes a large part of central Palm Beach County, including all of Royal Palm Beach, Loxahatchee Groves and parts of The Acreage. It is considered a safe Democratic seat. So safe, in fact, the GOP has not fielded a candidate this year.
While the Florida Constitution calls for open primaries in such circumstances, which would allow all voters to participate in the primary, the so-called "write-in loophole" is often used to maintain closed primaries. In this case, a write-in candidate named Josh Santos, whose name will not be on the November ballot, has also filed to run. He does not appear to be running an active campaign for the seat.
Bobby Powell Jr. — First elected to the Florida Senate in 2016, Powell also served from 2012 to 2016 representing District 88 in the Florida House of Representatives.
A graduate of Palm Beach Gardens High School, Powell earned a bachelor's degree in public relations from Florida A&M University. He later earned a master's degree in urban and regional planning from Florida State University.
Currently an American Institute of Certified Planners (AICP)-certified urban planner, Powell works at Urban Design Kilday Studios in West Palm Beach.
As a community leader, Powell has received recognition and numerous awards during his tenure in state politics.
Powell said that he wants to bring an equilibrium to the Florida Senate. "I am running for re-election because it is another opportunity to bring parity and fairness into the legislative process as a senator," he said.
Powell is proud of his work with both his Democratic allies and the Republican opposition. "I have built strong relationships with colleagues on both sides of the aisle," he said. "I believe that a life of service is a life that counts."
Powell also takes pride in the accomplishments he has achieved for his efforts so far.
"I have been able to provide economic development opportunities here in Palm Beach County by bringing back more than $50 million into the budget for Palm Beach County during my time as a senator," he explained.
Powell said that he wants an opportunity to carry on his efforts in Tallahassee. "I will continue to fight for criminal justice reforms, access to a great public education system and the protection of our environment during my next term."
Powell noted that he was active during the 2017 legislative session, serving on the agriculture, appropriations, health policy and judiciary committees, as well as the joint legislative budget commission.
"I have [also] received many awards and recognition as a community leader over the last two years, and even more during my time in the house," Powell said.
To learn more about Bobby Powell Jr., visit www.facebook.com/StateSenatorBobbyPowell30.
​Rubin Anderson — A resident of West Palm Beach for some 40 years, political newcomer Anderson has been married to his wife, Sharon, for more than 27 years and they have raised a blended family of five children.
Currently a substitute teacher in Palm Beach County and serving as pastor of First Corinthians Missionary Baptist Church, Anderson has been involved with several charitable organizations, such as the Pediatric Oncology Support Team (POST), the Leukemia & Lymphoma Society and the Purple Chicks Father's Day 5K & Family Run.
Working with the National Baptist Association of Churches, he has had involvement with different cultures and has worked hard to reconcile cultures together and teach them to respect each other.
Anderson previously owned a successful landscaping business and worked hard to build its success by employing others and teaching them the vocation of horticulture management. He also worked as a golf course superintendent for 10 years.
Anderson holds a bachelor's degree in ministry and is also certified in golf course management. He said that he possesses experiences and skills in project management, which have prepared him to handle expenditures and implement strategies.
He also said that he works hard to earn the respect of others and leads with transparency. He sees himself as the "new model" on the political showroom floor with fresh perspectives to make an impact on issues facing the citizens of District 30.
"I am running because District 30 needs a senator who will listen and fight for issues such as institutional disparities, bridging communities together and funding for education," Anderson said.
He described his background and credentials that he feels would help him be a good representative of his constituents.
"I moved to West Palm Beach in 1981 from Kissimmee and have been involved as a pastor in communities for more than 30 years," Anderson said. "I owned and operated a successful landscaping business for 20 years. I have a bachelor's degree from Palm Beach Atlantic University and certifications in business, and I held a red badge level U.S. government security clearance."
Anderson said that people should vote for him to send a new voice to Tallahassee.
"It will be my honor to serve and challenge legislation regarding educational lottery monies, institutional disparities in voting, employment and restoration of rights," he said. "I walked District 30 for two years and heard the concerns of the people. I will be transparent and accountable to District 30."
To learn more about Anderson, visit www.rubin4sd30.com.