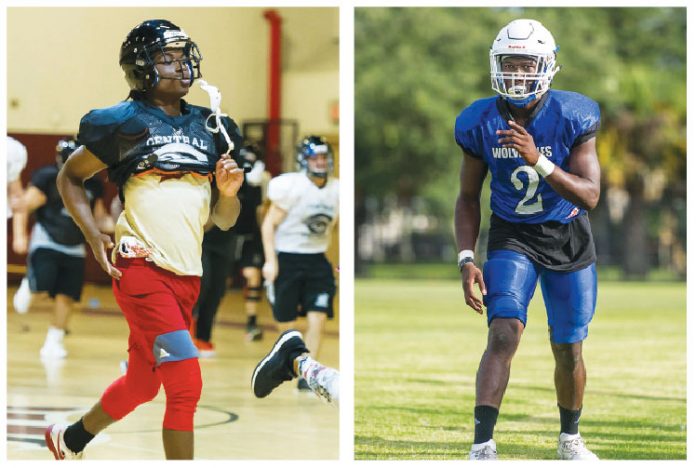 Two of the area's top football players recently participated in the nationally acclaimed Nike "The Opening" camp and 7-on-7 football tournament. Palm Beach Central High School senior Akeem Dent and Wellington High School senior Mark Antony Richards were invited to Texas for the event.
The two were invited to compete on the national stage with a chance to draw the spotlight. Dent, a five-star safety for the Broncos, has committed to Florida State University, while Richards remains undecided.
The country's top prospects battled on the field in Frisco, Texas, to showcase their skills. A total of 160 of the nation's best spent the week networking while going head-to-head on the turf. Dent and Richards were on opposing teams and only had a brief encounter on the field. The saga is sure to continue in the fall when the Broncos host the Wolverines in a rival battle that has not disappointed in recent years.
The two are sure to collide, as they line up on opposite sides of the ball. Richards plays primarily at the slot receiver position, with Dent on defense. Richards will also see time on the clock at running back and anchor the Wellington defense at free safety. Both Richards and Dent are among the best Florida has in the Class of 2019.
"Only the top 160 players are invited, and I'm just thankful. Ahmmon wasn't able to go, so I felt like I had to get it for him," Richards explained, referring to his older brother Ahmmon Richards, now a stand-out wide receiver for the University of Miami.
Both local athletes were able to make some noise, as expected during their time in Frisco. "I feel like I did pretty good, Richards said. "I scored five times, but the quarterbacks try to share the ball."
National events such as these prompt players to do their best when going against the nation's premier athletes. Richards was perceived by many coaches as a defensive player, but after his performance in Texas, they are now scratching their heads.
Dent will also see time offensively for the Broncos but remains dedicated as a defensive player. He will likely take an active role on special teams, lining up to take punt and kick returns.
"He's a five star for a reason," Richards said of Dent. "It's going to be a great game to watch," he continued, noting this fall's match-up between Wellington and Palm Beach Central.
The Broncos host the Wolverines on Friday, Sept. 14 at 7 p.m.