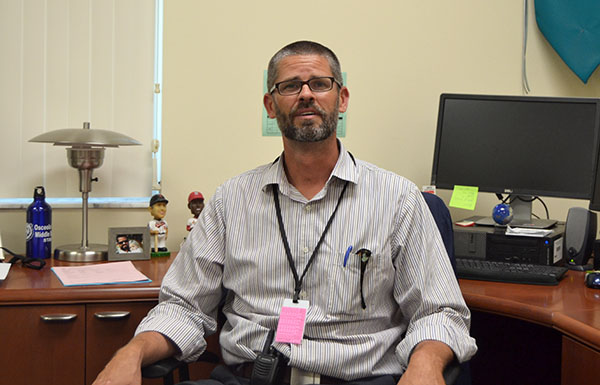 The 46-member staff and 750 students of Osceola Creek Middle School in The Acreage welcomed Brian McClellan as their new principal at the start of the 2018-19 school year.
McClellan received his master's degree in educational leadership from Florida Atlantic University in 2008. His career with Palm Beach County schools began with six years teaching math at Conniston Middle School in West Palm Beach. He next spent four years at Lake Worth High School as choice programs coordinator, where he promoted the school's programs to middle schoolers.
McClellan later worked with the Department of Safe Schools as a learning team facilitator and worked with middle and high school math teachers as an instructor specialist. His most recent position was as the assistant principal at nearby Seminole Ridge High School.
McClellan currently resides in Jupiter Farms with his wife Robie — a former Palm Beach County school teacher — and their four daughters, ages 10, 8 and a pair of two-and-a-half-year-old twins.
He is originally from Frederick, Md., outside Baltimore, where he grew up a fan of the Baltimore Orioles. He attended the game where Cal Ripken Jr. set the record for consecutive games played and keeps an Orioles' bobblehead on display in his office.
"I came to Palm Beach County in 1999 at the invitation of a friend from college," McClellan recalled. "I wanted a change of atmosphere. It's just a nice place to live."
McClellan is very excited about his latest assignment.
"I think Osceola Creek Middle School is a hidden gem," he said. "The school has tremendous history, and it allows me to stay in Loxahatchee. Working at Seminole Ridge, I became familiar with the community."
McClellan's time at Seminole Ridge has given him a fondness for the Acreage/Loxahatchee area, and he cites its equestrian community and natural beauty as the reasons why.
He does not view the position as a stepping stone to a higher position, but rather a continued commitment to the community and its students.
"The buck stops with you," McClellan said, naming the biggest difference between his current position and his previous job as an assistant principal. "I am no longer climbing the ladder. I am also dealing with a much smaller staff and student population. At Seminole Ridge, there were 150 [faculty and staff]. Here at Osceola Creek, there are only 46. There were 2,300 students there, but only 750 here."
McClellan has spent his first days observing and learning from the faculty and staff, as well as getting to know the names of staff, students and parents in a short period of time. "The community has been very welcoming," McClellan said. "You walk into a new position unsure, but everyone has been honest and sincere with their acceptance."
He said the best part of becoming principal was being able to share the moment with his family. In addition to his wife and children, his parents also live in Florida, having relocated from Maryland to Port St. Lucie.
McClellan touted some of Osceola Creek's programs, including television production and communications, and a pre-veterinary program. They are also in their second year of the Advancement Via Independent Determination (AVID) program. AVID is a district-wide program designed to better prepare students for college.
"The goal of middle school is to help students reach their full potential," McClellan said. "The biggest difference between high school and middle school is that high school has become a focus on getting students ready for the next step in college. In middle school, our focus is more applicable to now."